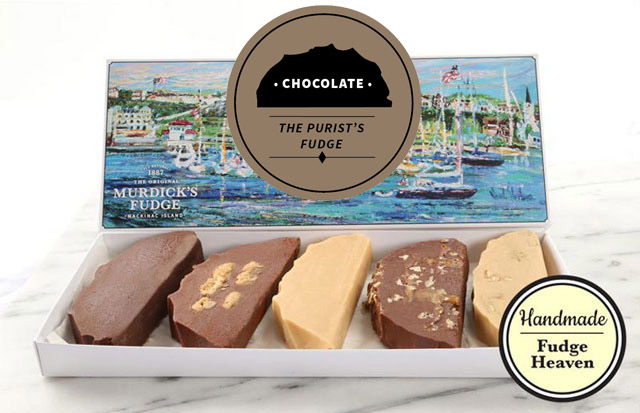 Mackinac Island Fudge Festival Is August 23-25, 2019
Enjoy a Free Slice of Pure Michigan Traditional Classic Chocolate Fudge
How it all began….
The Original Murdick's Fudge is Mackinac Island's original fudge shop. We opened our doors in 1887 to serve up fresh fudge made each day in our historic white clapboard fudge shop. To this day, each batch of Original Murdick's Fudge starts in a copper kettle and is painstakingly created with attention to indoor, outdoor and marble countertop temperatures, and length of time including temperature required for cooking, boiling, stirring, cooling and shaping. The art of fudge making at Original Murdick's also requires skilled professionals to perform a specific and timely turn-of-the-wrist "paddling" technique when shaping the delectable fudge into loaves. Blend a tried-and-true recipe with handcrafted, precise techniques — along with a temperate Great Lakes climate — and you get pure excellence.
If you can't attend Mackinac Island Fudge Festival, you can still celebrate at home with 5 of your preferred fudge choices and receive a free slice of our traditional classic purist plain rich chocolate fudge that was one of the original flavors which is still a favorite today.
Use promo code TRADITION from August 18th thru August 25th 2019 at checkout to receive a FREE SLICE of Traditional Classic Plain Chocolate Fudge with each five slice online order.