Enjoy a slice of Double Chocolate Dark Fudge as a birthday gift to you!
The Original Murdick's Fudge is turning 133 years old on July 27th and we are celebrating by sharing with you a slice of Double Chocolate Dark Fudge!
Like a freshly made chocolate soufflé, our bold and Double Chocolate Dark Fudge dose satiates every type of chocolate craving. There are deep, unending layers of cocoa plus a lingering slick of fresh cream.
Buy five slices of fudge packaged beautifully in our watercolor artisan box and receive a birthday gift; a slice of Double Chocolate Dark Fudge for you.
Use Promo code at checkout: BIRTHDAYFUDGE
Promotion is for online customers only from July 24th – 31st, 2020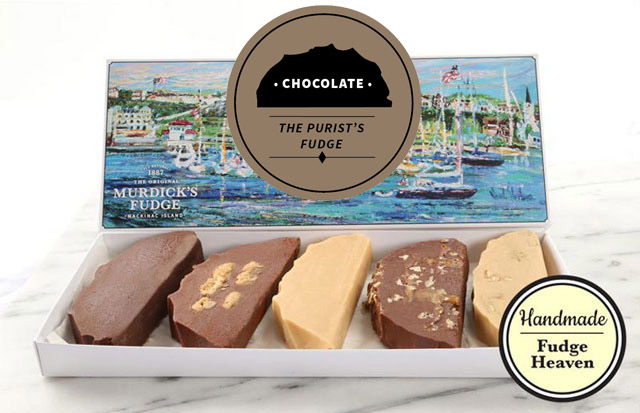 Since 1887, the Original Murdick's Fudge has followed Sara Murdick's old-fashioned fudge-making techniques that have been passed down through the generations. We still use the copper kettles and marble topped fudge tables to create the creamiest fudge. Visitors and islanders love stopping by the original clapboard shop to watch the fudge making process and taste the treasure trove of hand-crafted sweets.