Mackinac Island shines far and wide now that the Main Street Christmas tree's lights have been turned on.
The annual community Christmas Tree Lighting ceremony, which took place last night (Dec. 2) just steps from our Original Murdick's Fudge shop (yes, we took a few minutes off from making our Mackinac Island fudge to watch the street light up!), drew folks from throughout the island and from the mainland to enjoy what was a veritable scene from a Norman Rockwell painting.
Complete with Christmas carol singing and lots of community cheer, the tree-lighting gathering was one of many special activities that are taking place yet this weekend.
The Mackinac Island Christmas Bazaar runs through Dec. 5 and raises funds for the Mackinac Island Medical Center as well as St. Anne's Catholic Church, Little Stone Church, Trinity Episcopal Church and the Mackinac Island Bible Church. Each year, the Mackinac Island Community gathers together to celebrate the Christmas season by giving back.
Murdick's Collector Ornament
For those who won't be able to see the tree in person this year, Original Murdick's Fudge is again offering our commissioned Michigan designer ornament that showcases that very pretty tree among our winter wonderland Main Street.
The postcard-style ornament (Murdick's Collector Ornament — Mackinac Holiday Main Street) is a keepsake reminiscent of the old-fashioned tree-lighting tradition that illuminates charming downtown and beyond.
Exclusively handcrafted for Original Murdick's Fudge and our fudge lovers, the ornament is available for purchase! We are pairing the glass-blown beauty with a Pure Michigan island taste — two half-pound slices of fudge (you pick from 12 festive flavors).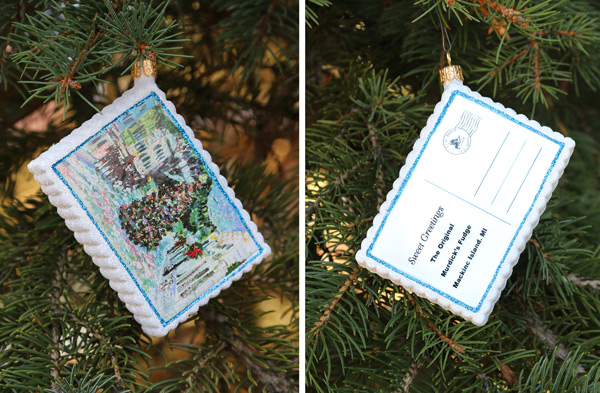 Hanging on your Christmas tree at home, the ornament is sure to stir up memories of your last fudge-shop visit or inspire northern Michigan island getaways yet to come! Created in old European-style fashion, it's a true keepsake.
Click here to order this ornament and fudge combination gift.
#MakeItMackinac #MackinacFudge #FudgeRecipes #MackinacIsland #HolidayGifts #PureMichigan #ChocolateFudge #ChristmasOrnament #MLive #WoodRadio #TV9&10 #MackinawCity #StIgnace #GrandHotel #Murdicks
Posted Dec. 3, 2016