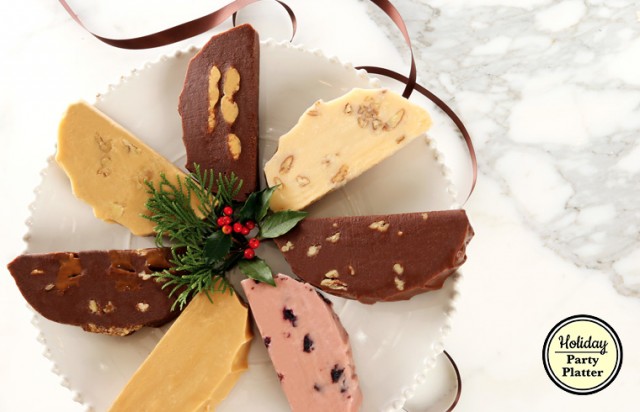 It's time for "Mack Friday" holiday deals here in our Mackinac Island fudge kitchen. Yeah, we don't want to really refer to our deals-n-steals day as uh, "Black" Friday, because well, we're so darn colorful in our Main Street sweets emporium.
Original Murdick's Fudge is, in fact, taking the Black out of Black Friday and whipping up discounts on our 12 holiday fudge gift-box flavors that wow family and friends with their variety of festive tastes and colors, including pink-and-red (Holiday Cranberry), orange (Pumpkin Spice), cream (Butter Pecan and Michigan Maple Walnut) and rich chocolate browns (our other "great eight" holiday flavors — you just have to try the Chocolate Mint … talk about Christmas-y!).

Black schmack, we're all about the colors of the holiday here on Mackinac Island! On Mack Friday only (that, of course, is Nov. 27), we're offering 15 percent off on all orders. Use promo code 15OFF. Click here to see our marvelous selection of treats, including not only our favorite fudge, but caramel corn, English toffee and four brittle varieties.
Order now, it's delivered later: To ensure that all gift box sweets are fresh, fudge lovers can select from three holiday delivery windows for FedEx delivery in December.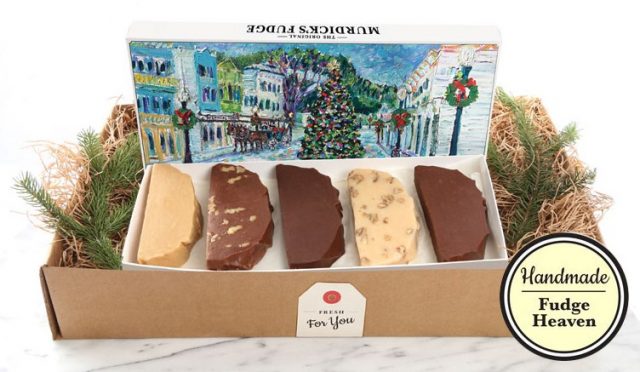 And if Cyber Monday finds you at the keyboard, click right on over to our great big free-shipping deal on a great big box of goodness — our "Mackinac Holiday" gift box. Use promo code freeshipping.
One of our best sellers throughout our summer season, this Original Murdick's Fudge five-pack comes in a beautiful new holiday box depicting wintry Mackinac Island.
Check out the colorful scene (created from a painting by island artist Noel Skiba) that features Main Street Mackinac Island at Christmas.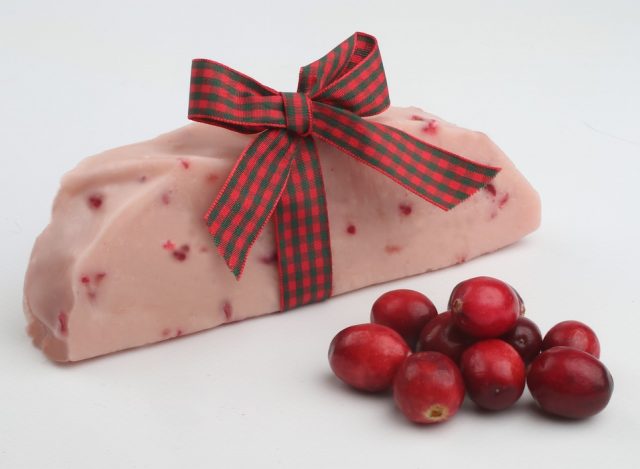 The box includes five different ½-pound slices of our famous Mackinac Island fudge. You pick from 12 flavors — and can make it as colorful as the lights on the Christmas tree on the front of the box! Don't miss out on this free-shipping deal!
Also, don't forget to check out our Facebook page regularly through Dec. 18. Our social-media elves are busy cooking up some Santa-sational giveaways, including the gorgeous 2016 Seasons of Mackinac calendar, free to contest winners. Click here for a peek at the calendar.
And finally, as we head into Thanksgiving, our team at Original Murdick's Fudge wants to share with you that we have a lot to be thankful for this holiday season.
Thanks to the efforts of all of our employees and their hard work in a sometimes very-hot kitchen. And it's not just about making, it's also about creating. We've added exciting new flavors to our roster, thanks to the innovative minds of those who stir the kettles and pour out the fudge and brittles onto our legendary marble tables. Coconut, pumpkin seed and more are just a few of the ingredients we've rolled into our products this past year. Delish!
Thanks to our suppliers, especially the Pure Michigan farmers who turn out sugar, cream, cherries and so much more. Throughout the year, we use various ingredients grown and cultivated by hardworking Great Lakes State growers — we're so appreciative of their Pure Michigan commitment.
Thanks to all of the media who found us interesting enough to feature in their news stories. From radio to television to print to online, Original Murdick's Fudge and its backstories and new offerings have been told worldwide.
Thanks to all who supported the "Block Out Cancer" program, through the University of Michigan's C.S. Mott Children's Hospital.
Thanks to you! We appreciate that you are loyal to Pure Michigan ingredients and our Pure Michigan company. While there are tempting options aplenty to purchase treats from around the corner to around the world, you continue to be smitten by the Mitten state's most iconic, traditional Mackinac Island fudge, still created with recipes used by Original Murdick's Fudge founders, Sara and Henry Murdick (of whom we're also thankful!).
Happy Thanksgiving to all!

Posted November 25, 2015