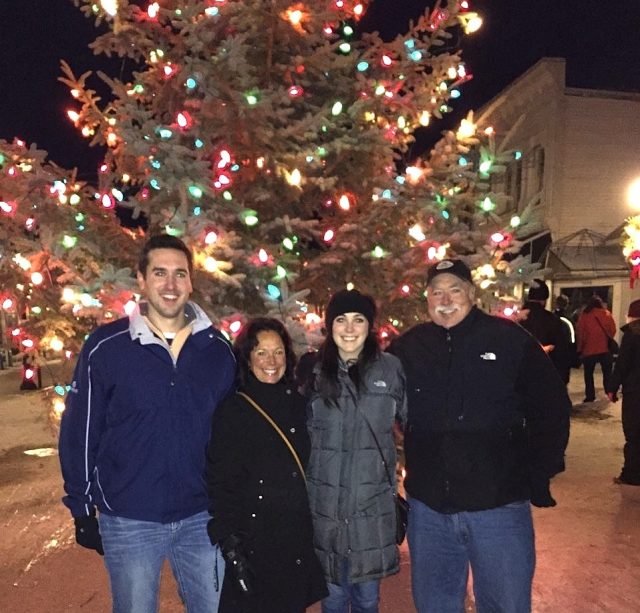 A few years back, HGTV named Mackinac Island a top-10 Christmas Town. And for good reason. The sleighful of winners also includes other towns in Vermont, Colorado and Alaska.
A television special on these top 10 towns portrayed Mackinac Island as it really is in the winter — full of community spirit. The narrator noted that the island seems "locked in time."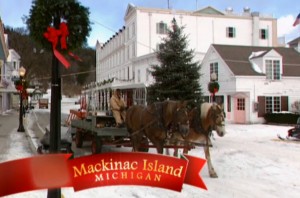 And now Impulcity also named Mackinac Island a Top Christmas Town.
The spirit represented in these two recognitions is certainly alive and well here at the Original Murdick's Fudge kitchen (where we use original recipes from 1887 — that's when our doors first opened), and throughout the rest of our beautiful and historic island.
Just steps from our front door on Main Street in the middle of downtown is the magnificent island Christmas tree, for example, lit with hundreds of colorful lights. It's a sight to behold and is truly the personification of this top "Christmas Town," or should we say, "Christmas Island."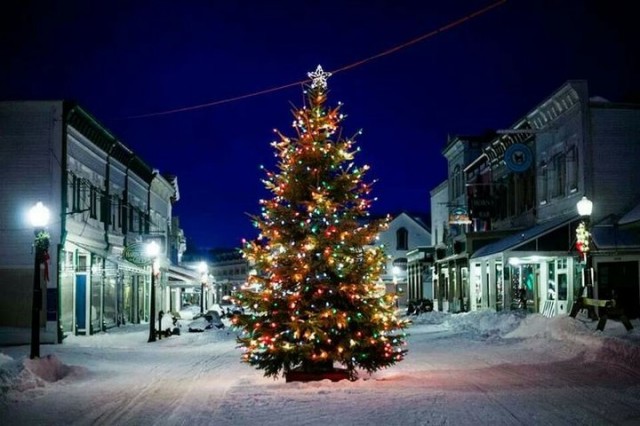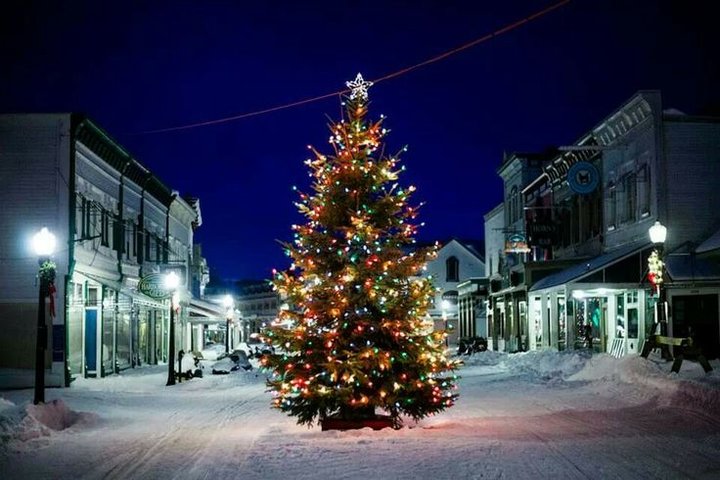 And we don't just mean the tree. It's what's happening around it that has us taking a break from making the original Mackinac Island fudge and preparing our holiday gift packages for shipping.
We spent a few minutes yesterday watching as families gathered throughout the day and evening in front of the tree for a quick photo. Couples stopped to get selfies and now and then a solo passerby would pause and take a quick pic of just the tree and then him or herself with the tree as a backdrop.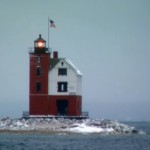 At quieter times, you truly can sense the many holiday nuances that drift amidst the island. Horses and delivery wagons, of course, evoke a townful of holiday spirit. Then there are the lighthouses in the distance, such as our nearby Round Island Light, which makes one think of those lighthouse keepers of long ago and how they'd spend their Christmas, on and off duty, and finding time for family.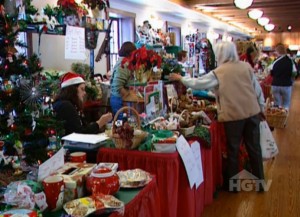 The annual Mackinac Island Christmas Bazaar at our Community Center lit up the town Dec. 5-8. Oh what a sight it was to see all the activities, which support such organizations as the Mackinac Island Medical Center, Ste. Anne's Catholic Church, Little Stone Church, Trinity Episcopal Church, and the Mackinac Island Bible Church.
Each year, folks of all ages gather to celebrate the Christmas season by giving back through the "three B's" — bidding, bargain-hunting and buying, all while raising funds for these various organizations.
The sounds of carolers fill the air at about the same time the tree lights go on for the first time. "Dazzling," "stunning" and "enchanting" are words we heard as we ducked in and out of our warm Mackinac Island fudge kitchen to take in the splendor.
From cocoa and cookies to basketball games to lunch at the community hall to raffles to kids crafts to auctions— and of course visits from Mr. Claus, himself — the Bazaar happenings here on the island all add up to one very traditional celebration filled with community spirit.
Oh, if Norman Rockwell could visit the island today, what sights he'd see! It's almost as if old-fashioned traditions don't change here on the Mackinac Island. It's as if time stands still this time of year. Oh yeah, there are the smartphones, of course. Those signs of technology certainly drift about everywhere, but hey, what a great way to get a snap of what we think is the world's prettiest tree, in one of the nation's "top Christmas towns!"
We at Original Murdick's Fudge (see our Christmas wish here) are so grateful to be located on this wonderful island, a Pure Michigan destination that often seems "locked in time." For us, and our 127-year-old Murdick's of Mackinac traditions, that's a good thing!
And now back to our copper kettles.
Holiday Gift Ideas
We re-opened our Mackinac Island fudge shop on Dec. 1 where we are handcrafting Mackinac Fudge and other sweet treats for our six holiday gift boxes. The last day to order online is Dec. 18.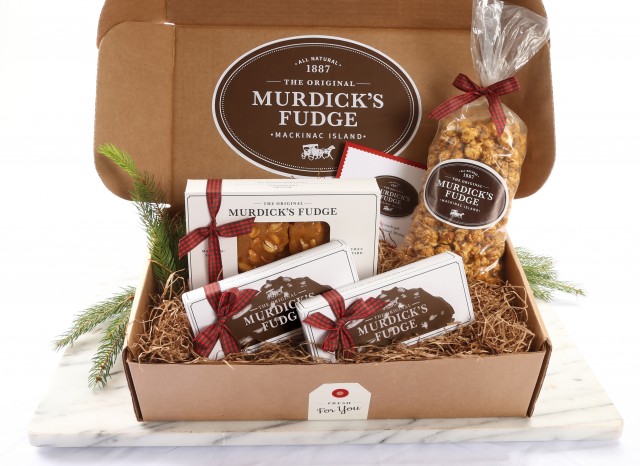 We also are accepting custom orders of whatever fudge, brittle or toffee combinations you would like.
And remember, Mackinac Fudge makes great corporate gifts for your clients, customers and employees. In addition to our six gift box options, we can customize whatever combinations you would like.
Posted Dec. 12, 2014