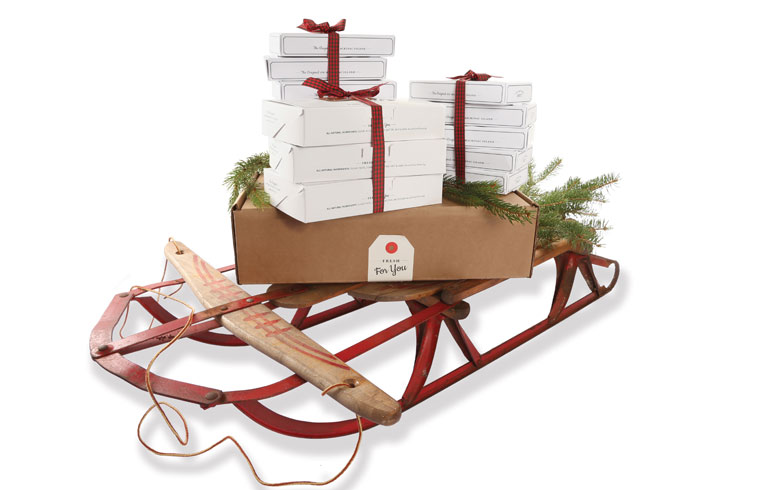 Developing this year's Original Murdick's Fudge gift options has been almost as fun as eating our products! Seriously!
That's what owner Bobby Benser, Jr., shared as he was putting the finishing touches on our selection of fudge flavors and gift boxes for Holiday 2014!
A dozen delicious fudge flavors await gift givers this year, as do six gift-box options and the opportunity to customize your very own Original Murdicks Fudge gift.
"Really, we have something for everyone on your list," Bobby says, just a few weeks before the doors of our Mackinac Island fudge kitchen will re-open on Dec. 1 with a flurry of activity. Sweet treats will be made on the island through Dec. 18. FedEx delivery will guarantee delivery in time for the holidays.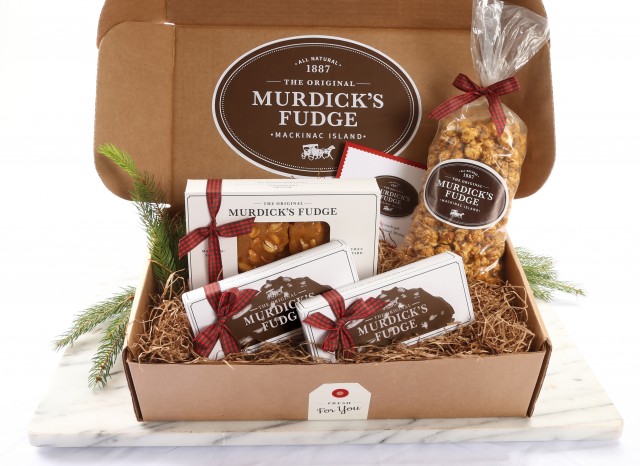 "Last Christmas season was our first year for opening one of our three Mackinac Island shops during December and we felt so lucky to have so much interest then," he continues. "People are begging us to do the same this year, so that's the story. However, we are presenting a few new twists, thanks to input from fudge lovers near and far."
Murdick's New Flavor
Our new fudge flavor this year is Michigan Honey Butter. That fudge is a result of a Southeast Michigan fudge lover's imaginative powers. She told Original Murdick's Fudge last summer how crazy she is about brown sugar and honey and wouldn't it be great to have a honey-flavored fudge?
Bobby and his fudge-making team gave that idea the thumbs up and quickly sought out a honey source, which turned out to be located in our state's own back yard.
Hardy Honey of Sterling Heights brought to the fudge-creation "party" just the right honey — it's all natural, raw, pure honey, and is not pasteurized. Bobby chose the wildflower honey, which is a mixture of nectars and can include, say, phlox, clover, and alfalfa.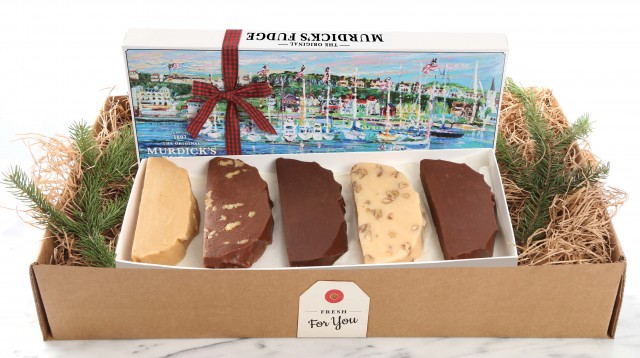 Those who work outside of our fudge kitchen also have been dreaming up a few fun elements for gift-givers this year. That includes a special box within the gift box that features the Original Murdick's Fudge 2014 "painting" — a watercolor scene by local artist Noel Skiba.
The box is sure to transport gift recipients right smack dab to the island on a sunny summer's day.
Great Lakes beauty meets colorful sailboats against a painterly Mackinac Island harbor backdrop. Does it get any better than this? Featured in the Mackinac Summer and Perfect Pairing gift box selections, these two are sure to please those who appreciate artful packaging.
Mackinac Detail
But remember, Bobby says, all of our packaging is unique to the Great Lakes State. Each box includes a card with the story of how the company started, back in 1887. "It's a Pure Michigan story," Bobby says, and includes the passion and tenacity required to keep a good thing going. (Original Murdick's Fudge founders were sailmakers and originally came to the island to make awnings for the soon-to-open Grand Hotel … you can read more here.)
All of the gift boxes come with sprigs of Michigan evergreen and classic red checked ribbons as a nod to the holidays and the state's natural beauty.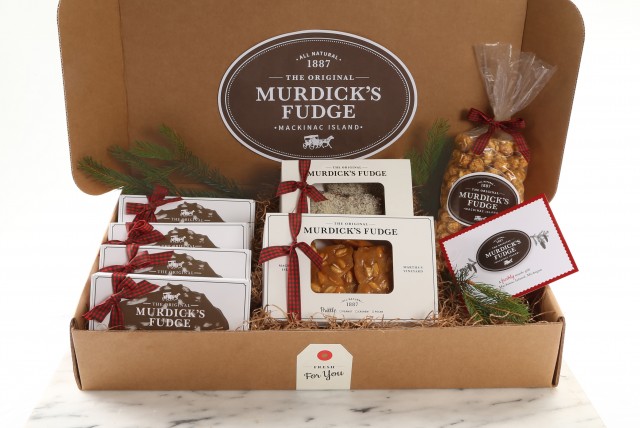 "In each box, we include not only a nostalgic gift card to the recipient, but we also are now creating a smaller card that puts the accent on Pure Michigan and how we use all-natural ingredients," says Bobby.
"We believe it's important to let our valued customers know that we truly are committed to using only fresh, quality ingredients. Our butter and cream is sourced locally, as is our sugar."
Other tweaks this holiday season include our redesigned fudge box, which puts the spotlight on our classic fudge, the very thing that hearkens back to Day 1, when Sara and Henry Murdick opened their first candy kitchen in 1887.
"All of this attention to gift packaging, information, note cards, new fudge flavors and more is in keeping with Sara and Henry's original mission — simple, classic and good," Bobby explains.
"We want the very essence of the founders to ring true in all we do, whether it's committing ourselves to the old-fashioned way of crafting our fudge and other products to using gift packaging that we know they'd approve of," Bobby concludes.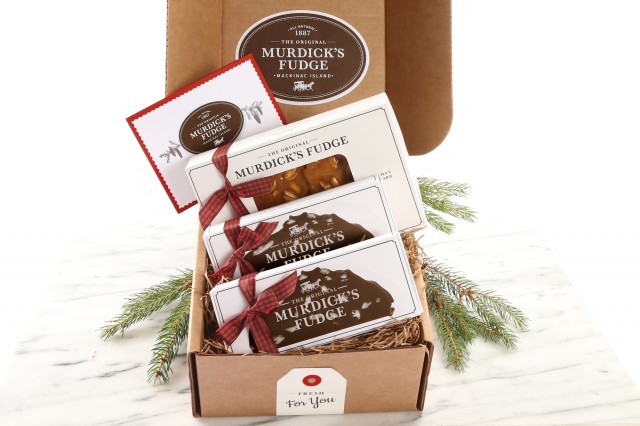 Get a jump on your holiday shopping by visiting the Original Murdick's Fudge online store featuring these six Sweet Mackinac gift box options.
Holiday gift orders are being accepted now with FedEx delivery beginning on Dec. 1.
Posted Nov. 7, 2014