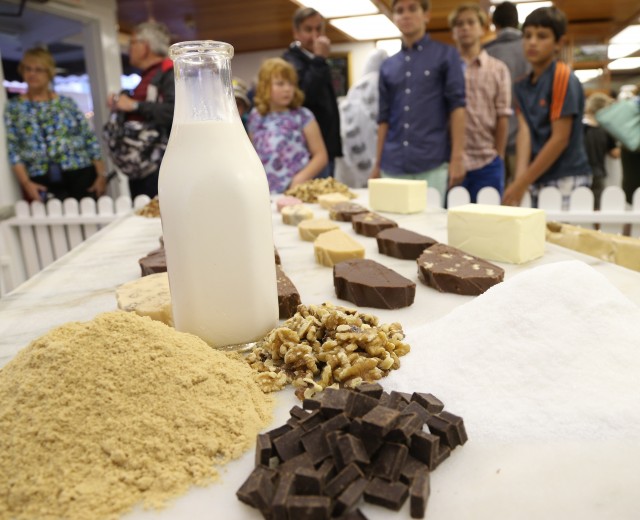 The Original Murdick's Fudge family has been pouring confectionery onto marble tables for generations.
And we Bensers are committed to and passionate about continuing that tradition, even as we re-open our Mackinac Island shop for the first time ever during the holiday season.
Bob Sr. and Bobby — and the entire Benser family, including our energetic, chocolate-loving dog, Mac! —are super excited this year because not only are we making fudge right now for two weeks in December like busy, toy-building elves in Santa's workshop, but we're shipping holiday gift boxes all over North America.
As for that old-fashioned, 1887 recipe that Sara Murdick perfected over the decades, a lot of its success comes from not only the Pure Michigan ingredients (and no preservatives!), but also the location of Mackinac Island and the magical technique required to turn out perfection.
A bit about the island and why it's conducive to making great fudge …. According to weather experts, Michigan has a "humid continental climate," with warm summers and no dry season. The area within 25 miles of here is covered by water, forests and cropland —  all contributors to the freshness and deliciousness of our products. And although we can't give away our secrets, we can say that our Island locale contributes to our success.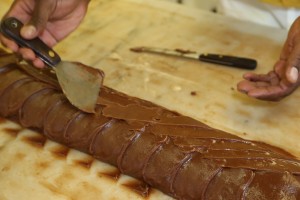 Generally speaking, our technique involves an exact fudge mixture that's heated to a certain temperature, poured out onto a traditional white-marble table and then slowly hand-paddled into shape. Each of those steps has several steps within! And that's what makes Original Murdick's Fudge uniquely textured.
But back to work. The chocolate elves are calling! We're making and packaging through Dec. 19 five new holiday gift boxes, available online for everyone on your list. We're even creating custom and corporate orders while we are open, here on beautiful Mackinac Island.
Thanks for helping us carry on Sara Murdick's sweet tradition!
P.S. Sign up below to receive future blog posts.