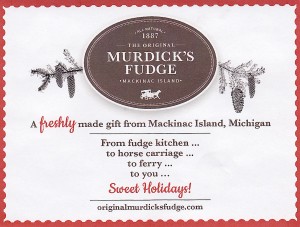 Great things come in small — and big — packages! We've created new gift boxes this year that are 100 percent all-natural holiday!
Recipients receive their treats in a classic brown box with our "new old-fashioned" logo, complete with a classic horse carriage silhouette.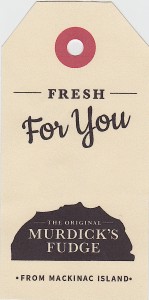 When you open the box, you first break a special seal (shaped like a gift tag but also reminiscent of a classic ferry ticket) designed to create an old-time appeal that's as special as our 1887 recipe from Sara Murdick.
Once open, you then will find a fun page of history and trivia that takes readers back through the decades to Sara Murdick's first fudge inspirations right to today.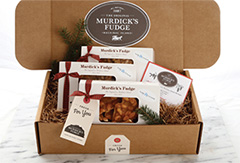 Amid  packing-straw and festive holiday-pattern ribbons is a specially designed, red-bordered gift card that includes one of our favorite sayings: From fudge kitchen … to horse carriage … to ferry … to you … Talk about old-fashioned! Here on Mackinac Island, we rely on horses and ferries to get to, fro and around the island (no cars allowed).
Verdant green sprigs of Pure Michigan pine are tucked amid the exquisite treats, too.
Our gift boxes are then shipped from the main land to all over the U.S. Each box is guaranteed fresher than the new-fallen snow here on the island.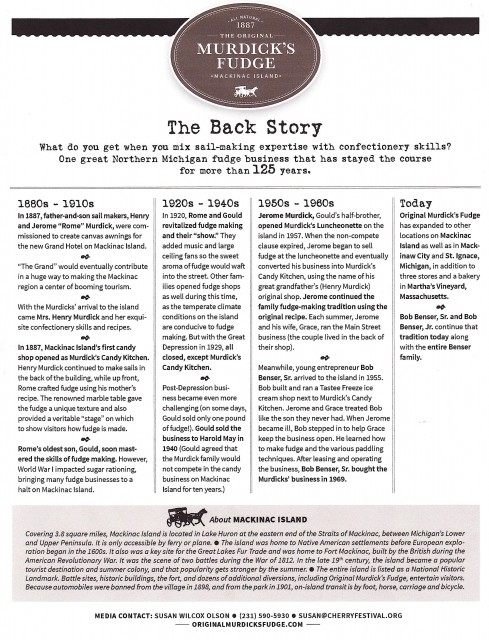 The Mackinac Island horses, the ferries, the old-time copper kettles, our 1887 recipe, our passion for handcrafted goodness … reiterates what we're all about — simpler times and fresh fudge, like the fudge your grandmother and great-grandmother made during years gone by.
There's still time to order during our first-ever Mackinac Island fudge-making blitz! We're making fresh treats — fudge, brittles (three flavors!), tofffee and caramel corn — and packaging through Dec. 19 at our Main Street store on the island for five new holiday gift boxes, available online for everyone on your list. We're even creating custom and corporate orders while we are open, here on beautiful Mackinac Island.
Happy — and sweet! — holidays to you and yours.