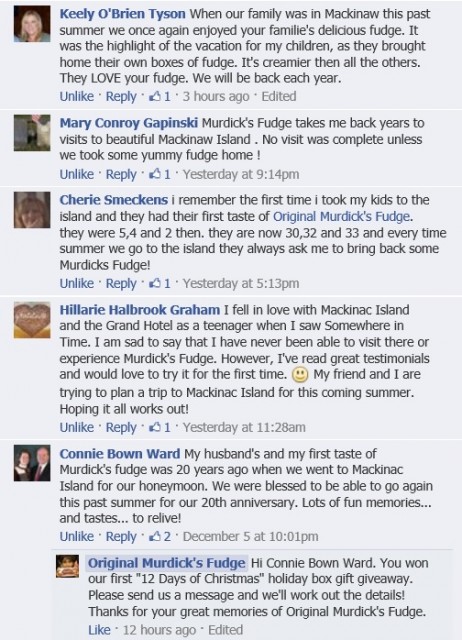 An avalanche of comments is pouring on to our Facebook page like a deluge of sugar being poured into our super-huge copper kettles. Sweet thoughts aplenty!
Thank you, fudge lovers, for participating in our  Original Murdick's Fudge "12 Days of Christmas" giveaway contest. Every day, we are giving away a five-slice gift box brimming with a variety of fudge flavors.
Hundreds of you have liked or shared us on Facebook, and/or have left a heartwarming comment about your best Original Murdick's Fudge memories. Many others have emailed us during our first-ever, holiday-season fudge-making blitz.
We're hearing wonderful stories about how our "textured fudge" seems to stand out from the rest, that it's "old-fashioned, the way Grandma used to make it." Others are weighing in with recollections of taking their young kids to Murdick's on Mackinac Island. "Now they're all grown up, some in their 30s, and they still ask us to bring back the Murdick's fudge that's on the Island," one woman shared.
Little did we know that delicious fudge evokes tradition, a community of goodwill, family-style memories and old-fashioned goodness that hearkens back through the generations. We are amazed with the stories we are hearing.
These are a just a few comments from Facebook. If you have not entered the contest yet, don't miss out on receiving a free gift box of deliciousness.
This is likely the easiest contest you will ever enter. Go to Original Murdick's Fudge Facebook page to like us, share our posts, or tell us your favorite Murdick's fudge memory.
Congratulations to the winners so far and stay tuned for new names — you could be next.