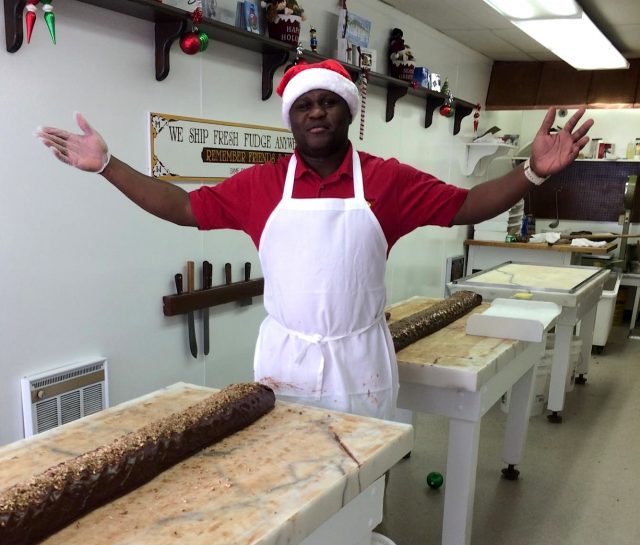 For 18 sweet days this month, the historic Original Murdick's Fudge shop on Mackinac Island reigns as sweet-tooth central.
We're heating up our island kitchen early every morning to handcraft delicious fresh Mackinac Island fudge, toffee, brittle and caramel corn for our six new Christmas gift boxes.
This is our second season of holiday fun on the island and we're expecting it to be bigger and better than last year, reports owner Bobby Benser, Jr.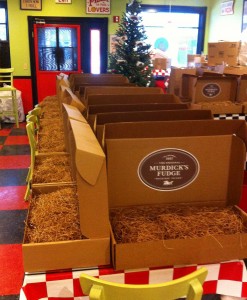 "Last year was great and a learning experience," he says, "Since it was the first time making our sweet treats in the winter, it took a while to get our systems down and to have everything – from our production logistics to building the fancy gift boxes – work as efficiently as we wanted. Our team gained lots of valuable experience from last year and now we're fired up and ready to ship fresh sweets by FedEx anywhere in the United States."
Actually, the idea to make holiday sweets and gift boxes came from our regular and corporate customers. "They asked, 'Why not open the fudge shop and make some of your world-famous fudge and something special for the holiday season?'"
Many wanted to change their holiday gifts up a bit and do something different. "So our holiday gift boxes and custom orders were a great answer to their requests," he adds. "The fudge is made daily and shipped by FedEx every day. So fudge made on Monday, for example, is delivered to metro Detroit and the rest of Michigan the next day. It's delivered to other destinations within three days."
Behind the Scenes
Our 12-member holiday fudge team works in the Mackinac Island fudge shop across the street from the Pink Pony grille. Boxes are piled high to the ceiling in our Island Slice Pizzeria staging area next door, and the copper kettles and marble fudge tables in the fudge shop are in use all day long.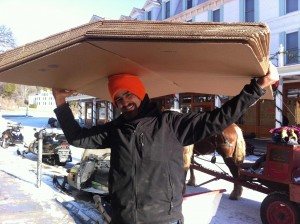 "It works out really well to have our Mackinac Island employees back in the kitchen working this month for our holiday run," Bobby says.
"Some of us stay on the island and others travel to the island every day. Some of our key managers really work only six months for us making fudge during the island's summer season. Then they may find other work on the island during the winter, whether it's in construction or something else. We have a considerable off-season construction industry on Mackinac Island. Since so many of our island buildings are older, business owners are always doing renovations and restorations.
"If we need more workers to handle our holiday orders, there are always people on the island looking for something to do in the winter."
The Original Murdick's Fudge of Mackinac Island team makes sweets fresh daily for three straight weeks, weekends included. We put in a good 10- to 12-hour day so we can make enough sweet treats to fulfill all of our holiday gift box orders.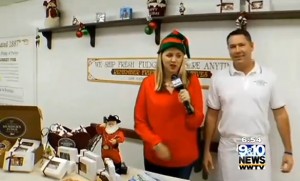 "Who would have imaged 127 years ago, when Sara Murdick first opened her original Murdick's fudge shop on Mackinac Island, that this small business would grow so big that today we would be making her original fudge recipes for the holiday?" asks Bobby.
Yes, it may be cold and snowy outside, but every morning we make the inside of our fudge shop warm and toasty. The ideal climate to make fudge is when it is warm and more humid. That's why our Mackinac Island Great Lakes location is so important in our fudge-making process during the summer.
So in the winter, we've covered our windows and use our big copper kettles to boil water for a good half hour at the start of the day just to put more moisture and heat into our building.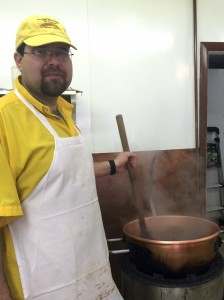 "Making our fudge, brittle and toffee on the island works out really well for us," explains Bobby. "Some asked why don't we just make our sweets in Gaylord, Mackinaw City or Detroit. But we have good employees right here. Secondly, FedEx picks up our gift boxes every day, which guarantees fresh and timely delivery of our product."
And then there's that certain island flavor, which just can't be duplicated anywhere else!
Working Together
Arnold Line and FedEx are great business partners. We pack our gift boxes on luggage carts and push them over to the Arnold Line dock, where they are ferried to St. Ignace at 2 p.m. for the FedEx pick.
Arnold Line is the only ferry service that operates during the winter. They run as long as ice and weather permit – sometimes they close in December, sometimes it's March. Mother Nature really decides! 
From St. Ignace, our holiday gift boxes are trucked south across the Mackinac Bridge to Toledo, Ohio, and delivered to happy customers in metro Detroit and around Michigan the next day. Fudge boxes going to other destinations around the country are delivered within three days.
We love answering questions from gift givers. Here are a few of the most popular ones:
What do you offer this season? We offer six holiday gift box options in a variety of price ranges. Customers also can still create custom orders or mix-and-match to fit their needs. We can ship multiple boxes of fudge (your choice of 12 flavors), brittle (three flavor to pick from) or toffee, or any combination of the three products.
How are your gift boxes delivered? We have two FedEx delivery windows remaining. You can select to have your gifts delivered the weeks of Dec. 6-10 or Dec. 11-18. It's your choice.
Can we create corporate or custom orders? Call our Mackinac Island fudge team to work out all your holiday details. If you want a bounty of brittle boxes or just tons of toffee to share with your employees or customers, let us know. We can make sweet magic happen for you this season.
How long do your sweets last? Brittle and toffee can last up to 60-90 days. Fudge stays fresh if you freeze it (Do not refrigerate it) for weeks. See how to preserve our fudge here.
So what's the best gift for Christmas? Fudge, of course. The original Mackinac Island fudge recipe delivered fresh from historic Original Murdick's Fudge.
Happy Holidays!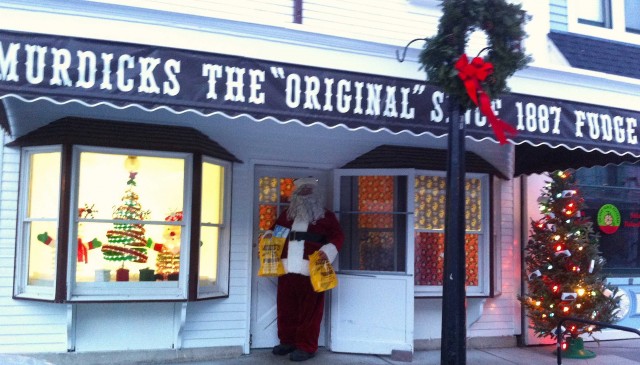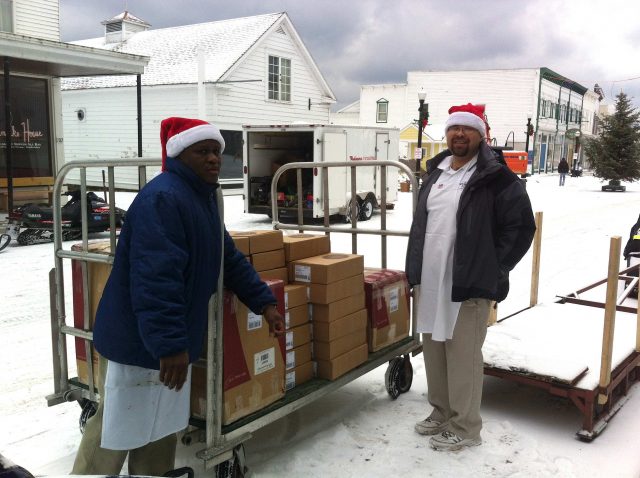 Posted Dec. 6, 2014