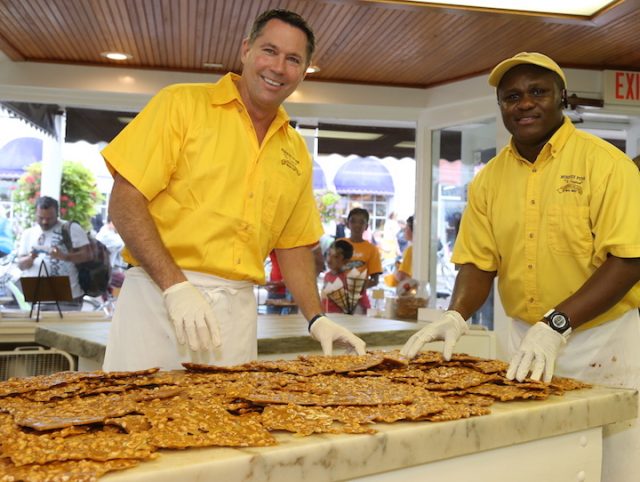 HOLD YOUR HORSES!
Original Murdick's Fudge is over-the-pumpkin-top excited to announce that we'll be staying open for a good part of November as we ramp up our Mackinac Island kitchen for a ferryful of Thanksgiving treats!
"This is the first time that we'll be open in November," says Original Murdick's Fudge of Mackinac Island owner Bobby Benser. "And we're super excited about our Thanksgiving offerings, which include four traditional fudge flavors — Chocolate Walnut, Double Chocolate, Peanut Butter and Maple Walnut — plus our new Pumpkin Spice!"
Three different package offerings allow you to pick and choose which pairings will be best for you and your Thanksgiving Day crew (or friends and family to whom you'd like to send a little Thanksgiving treat!).

Order NOW!  The deadline is Nov. 18.
If you're in the mood to try something totally different, choose a package that features our Pumpkin Seed Brittle. Hot off our marble slabs, this new OMF recipe has received rave reviews from our customers, including the many who made the pilgrimage (sorry, but just had to include a Thanksgiving pun!) to The Henry Ford's Greenfield Village for its recent Open-Air Farmer's Market as well as the attraction's Hallowe'en in Greenfield Village events.
Oh, had the pilgrims at that first Thanksgiving dinner in 1621 dreamed up a way to make brittle, they surely would have had plenty of seeds, since pumpkins and other squashes were indigenous to New England in the 1600s.
Our new Pumpkin Seed Brittle is crispy, crunchy and oh-so-texture-y, just like any autumn treat should be!
A Toast (or Toasted Seed) To Your Health!
What's really great? Our Pumpkin Seed Brittle is a source of the mineral zinc! Zinc, if you don't know, helps with proper growth and immune function, DNA synthesis, cell division and cellular metabolism. And we can all use that, right?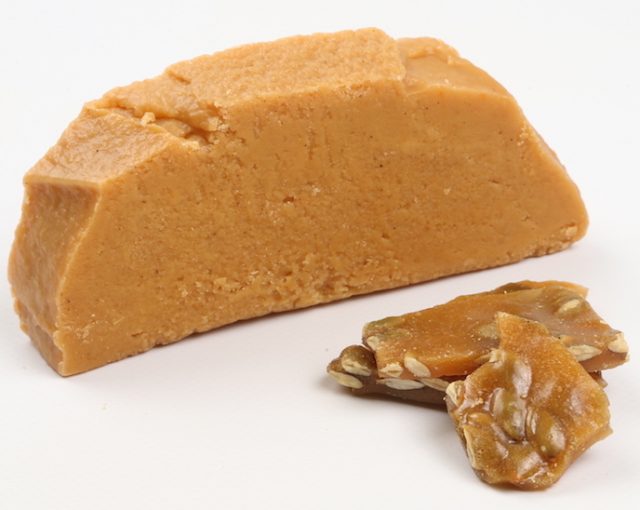 Shelled roasted pumpkin seeds (which are often referred to pumpkin seed kernels) contain about 7-8 milligrams of zinc per 3.5 ounces. Also, studies are showing that pumpkin seeds' vitamin E content may bring us even more health benefits.
As for our Pumpkin Spice Fudge … suffice it to say that there are great health benefits to be had from pumpkin! We'll share that in a future post this month.
For now, put down your Thanksgiving dinner cookbooks and recipes, and click here to find out how to up the taste — and fun! — factor at your Thanksgiving-time gatherings.
The Details
Your deadline to order our fudge (five flavors) and brittle for Thanksgiving is NOV. 18. We will ship all orders on NOV. 20 by FedEx in time for your Thanksgiving celebrations.

Posted Nov. 3, 2015