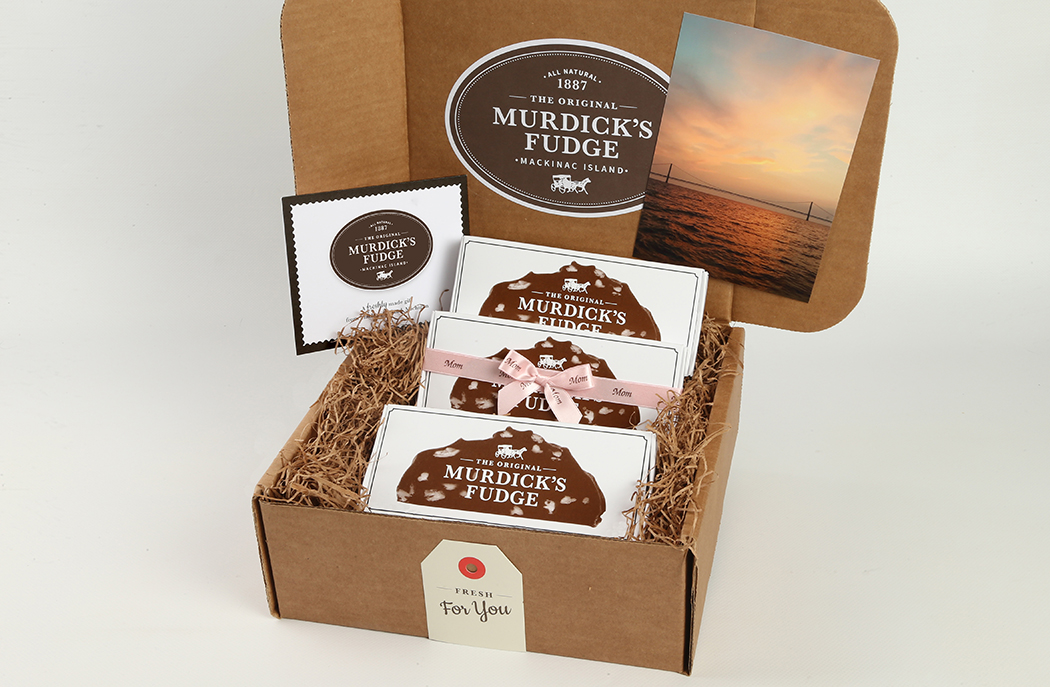 Here at the Original Murdick's Fudge kitchen on beautiful Mackinac Island, we are stirring the pot in Mom's honor these days, as we create, for the first time ever, Mother's Day Fudge Lovers Gift Boxes!
Yes, you can do better than a box of chocolates from the drugstore for Mom. And yes, this may be the year to skip the flowers.
Google, in fact, has reported that flowers are no longer the go-to gift for Mom. It reports that over the past few years, search interest for flowers around Mother's Day has decreased — down 19 percent since 2011.
TAKE AWAY: Savvy gift shoppers are recognizing that Moms love sweets, sweets, sweets.
Our exclusive Mother's Day Gift Box features three half-pound slices of fudge (you pick a custom combo from 20 flavors!). Tied with a light pink ribbon that features the word "mom" in brown script, our Mom's Day Fudge Lovers Gift Boxes are as delightful as a May sunrise on the peaceful shores of charming Mackinac Island.
And, to sweeten the deal, we're including a 5- by 7-inch photograph by photographer and Arnold Transit ferry employee Bobby Lee. We're currently asking our Facebook friends to vote for their favorite Bobby Lee image, which will become the special Mom's Day photo give-away.
From charming horses to scintillating Straits-area sunsets, Bobby's photos reflect his passion for the island. And because he's on the ferries all the time, he gets up close and personal with the island on a daily basis!
Our sweet Mother's Day Fudge Lovers Gift Box for your Best Mom Ever is $29.95, plus shipping. Our online store is now open. Gifts will be mailed the week of May 1 and can include a personal note as well.
HINT: Don't delay. Our fudge makes all moms smile! Order now.
Original Murdick's Fudge makers can also create custom orders for Mother's Day.
Update: The 2016 warm-weather season on Mackinac Island begins May 1. Our Sweet Summer online store also is open for pre-orders.
We hope to see you on Mackinac Island soon!
Posted April 21, 2016