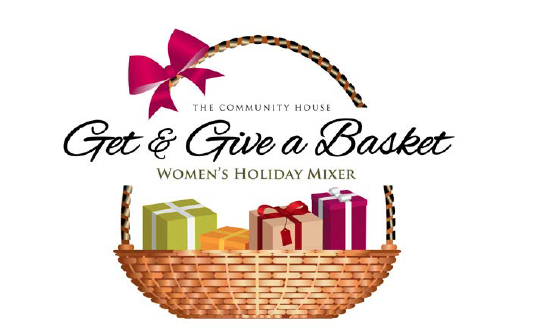 The holiday season is in full tilt here at Original Murdick's Fudge. Today, our "elves" are preparing a "basket" for the "Get & Give Holiday Basket" Women's Holiday Mixer at The Community House in Birmingham, Mich., and a Sampler Gift Box for Cranbrook's Holiday Tables event in Bloomfield Hills, Mich.
With regard to the "Get & Give" program, while we're reminded of how thankful we are for all of our blessings throughout the year, this is also a time to think about those less fortunate and those who need a temporary helping hand as they get back on their feet.
That's exactly what the Birmingham Community House's "Get & Give" program is all about — and we're excited to be a part of it!
On Nov. 19, women are invited for a fun evening with proceeds going to help provide needy mothers with Thanksgiving food baskets. Attendees pay $35 and enjoy wine, hors d'oeuvres, mixing, and the opportunity to purchase wonderful gift baskets for themselves or to give as gifts. The baskets' proceeds help 150 moms in need.

The Cranbrook Holiday Tables event, which showcases decorated tables throughout Cranbrook House,  is open to the public on Nov. 21-23. We are  inviting eventgoers to enter to win one of our Sampler Boxes at check-in.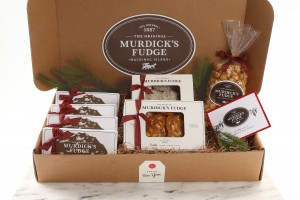 Why our partnership with this event? Original Murdick's Fudge owners are  longtime supporters of the Cranbrook educational community. So we are delighted to present old-fashioned goodness during this special tradition.
Original Murdick's Fudge of Mackinac Island treasures the preservation of history and the splendor of such community gems as Cranbrook House. Just as the candy company harkens back to the 1880s and still uses the original recipes from that era, our company recognizes and enjoys partnering with other organizations that also make preservation a priority.
Oh, and we LOVE this coincidence — Cranbrook's founders, George and Ellen Booth, married in 1887, the same year that Sara and Henry Murdick opened their very first Murdick's Candy Kitchen on Mackinac Island!
Our 100 percent all-natural "basket" and "Sampler Gift"  are actually similar to our $75  top-of-the-line gift box, which is a classic brown box with our "new old-fashioned" logo, complete with a classic horse carriage silhouette.
The $75 Sampler typically includes four different ½-pound slices of our all-natural Mackinac Island fudge (pick from 12 flavors); a bag of caramel corn (coated in our secret deliciousness); 10 ounces of crunchy brittle (pick from three varieties — peanut, cashew or pecan); and one box of nut-topped, flavorful English toffee.
When recipients open the box, they first break a special seal (shaped like a gift tag but also reminiscent of a classic ferry ticket) designed to create an old-time appeal that's as special as our 1887 recipe from Sara Murdick.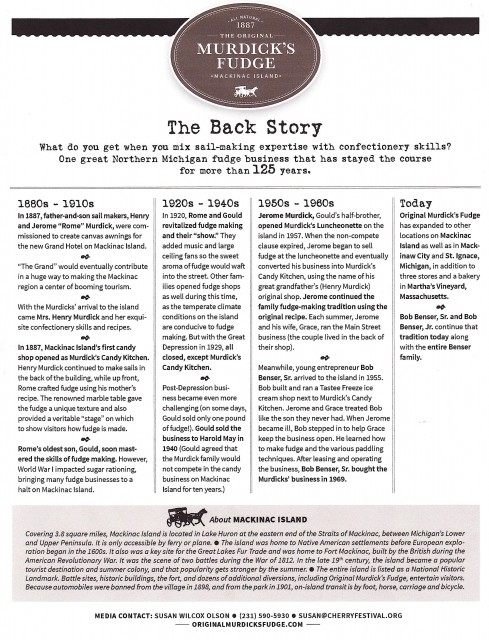 Once open, they then will find a fun "The Back Story" page of history and trivia that takes readers back through the decades to Sara Murdick's first fudge inspirations right to today.
Amid  packing-straw and festive holiday-pattern ribbons is a specially designed, red-bordered gift card that includes one of our favorite sayings: From fudge kitchen … to horse carriage … to ferry … to you … Talk about old-fashioned! Here on Mackinac Island, we rely on horses and ferries to get to, fro and around the island (no cars allowed).
Verdant green sprigs of Pure Michigan pine are tucked amid the exquisite treats, too.
The Mackinac Island horses, the ferries, the old-time copper kettles, our 1887 recipe, our passion for handcrafted goodness … reiterates what we're all about — simpler times and fresh fudge, like the fudge your grandmother and great-grandmother made during years gone by.
We're Re-Opening Soon
We're planning to open for most of December for a second winter Mackinac Island fudge-making blitz! We'll be making fresh treats — fudge, brittles (three flavors!), tofffee and caramel corn — and packaging through Dec. 18 at our Main Street store on the island.
We have six gift options and 12 flavors of fudge. We're also creating custom and corporate orders while we are open, here on beautiful Mackinac Island.
Happy — and sweet! — holidays to you and yours. We hope that whoever receives our "Get & Give" and Cranbrook Holiday Tables gifts will enjoy them as much as we enjoyed putting them together for these special community events.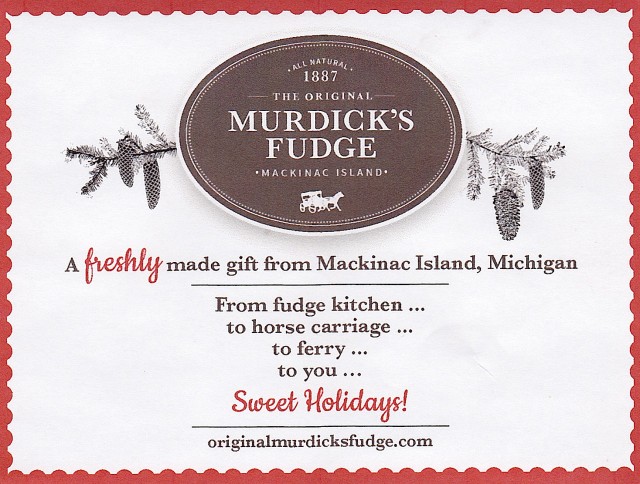 Posted Nov. 18, 2014