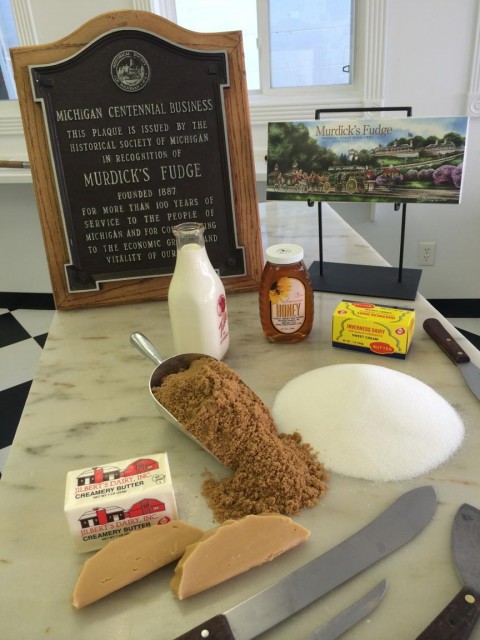 "I love, love, love brown sugar and fudge and, well, sweets are my thing … " so says Monica Drake-Carter of New Baltimore, MI, winner of our National Fudge Day New Flavor Contest.
Monica learned about our contest on our Facebook page and conjured up a dream flavor that got our fudge wheels spinning here in one of our Mackinac Island, MI shops.
She suggested we try to create a "Michigan Honey Butter" flavor, and that we did, marrying brown sugar and honey with butter and not much more into Pure Michigan bliss.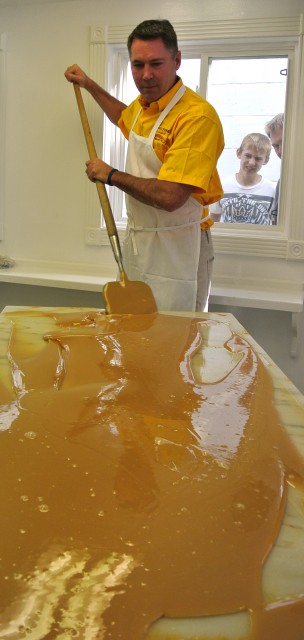 Sourcing our honey from Hardy Honey Bee Farms in Sterling Heights, MI, we've experimented with various temperatures and timing processes to get this new flavor just right.
Thanks to the 40something, sweets-lovin' Monica, this unique variety is now part of our repertoire of summer offerings.
We're also shipping the winner her own samples, fresh off our marble slabs, so she can give it a try. Not sure she'll want to pass it around her office (Monica works at Comcast Cable in Sterling Heights), it's that good. But we're guessing she'll want to share a piece or two with husband Steven, also a sweets nut.
Here's the thing, says Monica, who was scrolling through our Facebook page not long ago to learn about our National Fudge Day contest, "Anytime you can get a great sweet flavor without a lot of additional things added, well, that's a yummy kind of thing going on, know what I mean?"
Yes, Monica, we know what you mean. Original Murdick's Fudge has been doing their yummy thing since 1887!
Monica first met fudge at the age of 19. "I remember the day well; I was at a friend's jewelry show and she brought out a plate of fudge." The rest is fudge-lovin' history. After she married Steven, the two planned a trip here to Mackinac Island because they'd heard about all the fudge. "We had a great time and are planning a trip in fact for early this July."
As for that honey ingredient, Monica says she chose honey as part of her imaginative concoction because, "it's good for you."
Indeed, Linda Daleo at Hardy Honey Bee Farms say each of their honey varieties is healthy and each has its own unique flavor, depending on the specific plant or tree that was used by the bees to make the honey.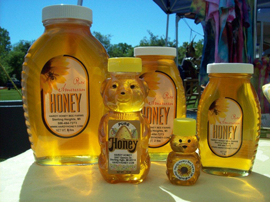 Hardy Honey is all natural, raw, pure honey. It is not pasteurized, because honey is one food that never spoils. Also, nothing is added, like in many supermarket brands that add corn syrup or other additives.
"I gave Original Murdick's Fudge our wildflower honey, which is a mixture of nectars," says Linda. "The wildflower variety could include, say, phlox, clover, alfalfa … it was extracted last autumn."
Original Murdick's Fudge is proud to source their honey from Hardy Honey Bee Farms, which is a member of the Southeastern Michigan Beekeepers Association (SEMBA), Michigan Beekeepers Association (MBA) and the Tri-County Beekeepers Association.
Linda notes that people are more and more into anything with honey in it. "Business is good, people are eating better and using a lot more raw honey these days," she says."How exciting that Original Murdick's Fudge called us for honey; this is big!"
And how exciting that sweets connoisseur and fudge fan Monica let her imagination run as wild as the bees themselves to conjure up our new National Fudge Day winning flavor, which will be available 'til, uh, the cows (or in this case, the bees) come home!
Be sure to try a sample of the new flavor and let us know what you think. Post your comments on our Facebook page.
P.S. Detroit News columnist Neal Rubin mentioned our new fudge flavor and ran a photo of Bobby Benser in the June 16 National Fudge Day edition. Check it out here.
Posted June 21, 2014