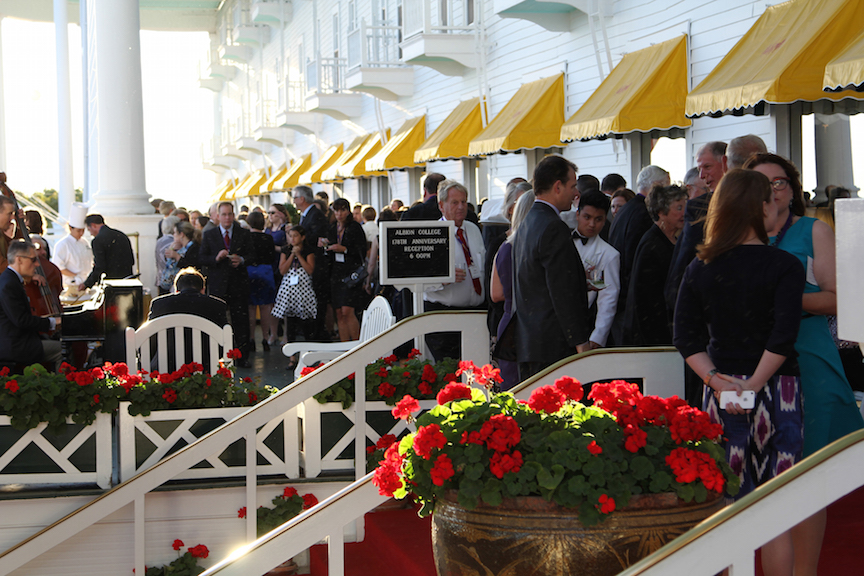 Go Brits! Mackinac Island is honoring one of our favorite Michigan colleges — Albion — this weekend with fun alumni gatherings, special Grand Hotel packages, and, naturally, lots of fudge!
No doubt, Michigan's Upper Peninsula is beginning to turn orange, gold and red as the fall season spins into gear. But here on Mackinac Island it's all about purple this weekend!
What, you might ask, do Mackinac Island — and fudge — have to do with Albion College and the purple-and-gold Brits? First off, there are a lot of summer employees and college kids on the island who attend Albion. And many Mackinac businesses are lucky to have Albion alums running the ship.
Here at Original Murdick's Fudge, purple is one of our favorite colors! All of owner Bob Benser Sr.'s offspring graduated from Albion College.
Bobby Jr., who runs the day-to-day operations at our five Pure Michigan Original Murdick's Fudge stores, graduated from the Michigan college in 1986. Amy received her diploma in 1992, while Heidi graduated in 1988 and Leslie in 1983. As you can imagine, the college had its hands full with all the Benser kids!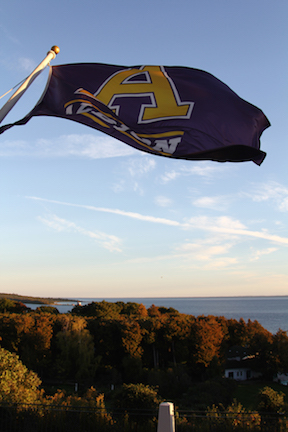 This weekend, as in many past falls, the purple-and-gold will be flying proudly in the way of Albion pennants at various stores.
GO BRITS, GO FUDGE!
SPECIAL OFFER: We're supporting the Albion weekend by offering a free slice of Original Murdick's Fudge with any in-store order this Friday through Sunday (Sept. 30-Oct. 2).
Make a purchase at any of our three island stores and then identify yourself as a Brit supporter (you won't be the first to support Brits, by the way — as you know, the island's history brims with Brit happenings!). Say "Go Brits!" or "Go Purple!" and you can choose a complimentary slice – any flavor – of fudge.
And if that's not enough, trot on over to the legendary Pink Pony at the Chippewa Hotel for the alumni gathering on Friday night. You'll find purple is the new pink at this rum-runner paradise.
While lots of alums will be gathering at the Pony, there also will be purple-and-gold all around the Grand Hotel during its annual Albion Alum package. It features outings, such as a special dinner at the Grand Hotel Stables, a reception Friday night on the Front Porch followed by dinner and alumni reception at the Pink, er, purple!, Pony.
Island hikes, bike rides and updates from college president Mauri Ditzler round out the fun.
Our Bobby Benser has many wonderful Albion memories "I enjoyed being a student at Albion and made lots of life-long friends there. What I really liked was the smaller class sizes and the school's community feel. I know many Brits are here on the island this weekend, so I hope they stop in to say hi and share some stories. I'm really thankful for all of their support over the years."
The Grand Hotel's owner Dan Musser III, a proud Brit himself, started the Mackinac Island fall weekend getaway several years ago and combined it with a special rate for Albion alumni and friends.
Thinking back, Dan says: "We could all remember how important Albion was to us and why it is such a special place, and hopefully by doing this, we created a renewed interest in enrollment and participation by alumni — whether that is through recruiting or even donations, but in general to raise the spirit of the school."
"Overall, I think it has been a great success and help to the college. We're glad to be able to host it," he shares.
Adds Bobby Benser: "It'll be another fun weekend on Mackinac Island. I hope to see the grads on the island and in our fudge shops. Let's Go Brits!"
Extra Fun: Read the recent Mackinac Island News blog post about Golfing on Mackinac!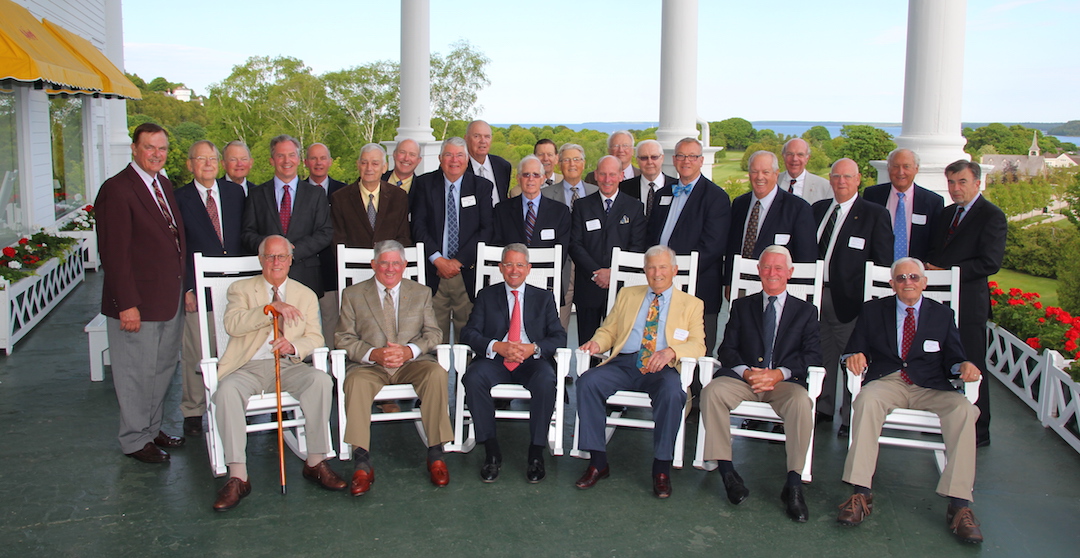 Posted September 30, 2016