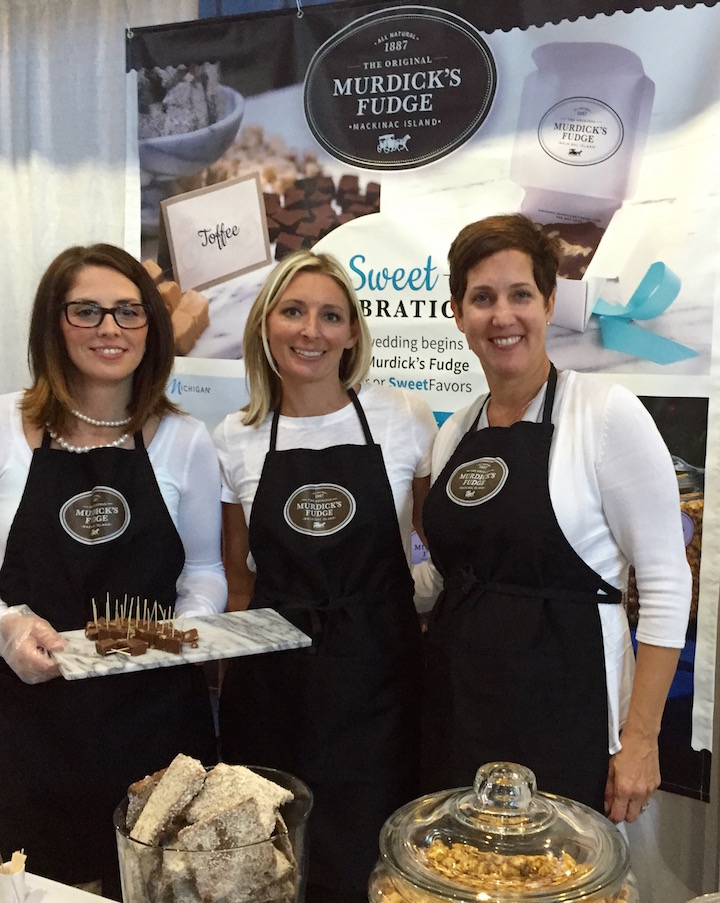 While Mackinac Island visitor numbers wind down as the summer season comes to an end, here at Original Murdick's Fudge we're hearing lots of wedding bells as we gear up for fall's many weddings.
We create sweet wedding favors in a variety of flavors as well as provide an old-fashioned SweetBar for those who prefer additions to fudge — think English toffee, peanut brittle, yummy taffy, and fresh caramel corn — straight from historic Mackinac Island.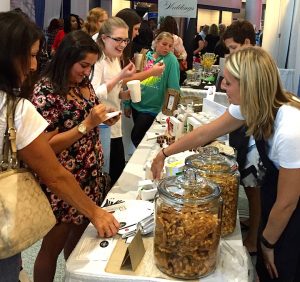 Wearing several hats throughout the year, we put on our "veils" recently to catch the bridal train, so to speak, and dashed off to the wildly popular Fall Bridal Celebrations Event at The Palace of Auburn Hills.
What a spectacular event this was. Original Murdick's Fudge Sweet Specialists Lori Jeruzel and Candace Raimi, as well as SweetConsultant Laura Andrews, were on-hand at our booth sharing tips and offering advice to brides on customizing their wedding-reception dessert options.
Our fudge favors, incidentally, can add Pure Michigan pizzazz to not only a wedding reception, but to just about any wedding-related event, from engagement party to hotel-welcome-family-and-friends gift to shower to late-night reception snack-time!
SWEET CELEBRATIONS
OMF made lots of new friends, including the event folks at the cool Detroit Chiavari. Their neat, classic chairs are one thing, but the addition of vintage props and more dazzled eventgoers.
Another A-1 vendor was Designs By Robyn Love. Her story-telling invitations, custom-made for brides and grooms, are outstanding and clever at once! We plan to showcase her Mackinac-themed pieces in another post, so stay tuned.
The folks at Williams-Sonoma set a beautiful table setting with wintry-white dishes and presented their clever Two in the Kitchen cookbook for newlyweds.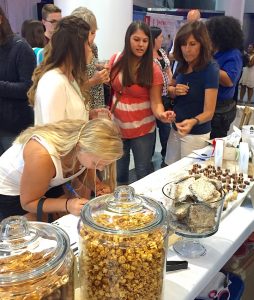 Meanwhile, representatives from Embassy Suites held court, sharing lodging offerings for out-of-town guests at their Troy, Auburn Hills and Detroit hotels.
We also met destination wedding specialists and can't wait to ship a slice of Pure Michigan in the way of a boxful of wedding fudge favors to brides and grooms tying the knot farther afield (we ship anywhere in the U.S. and Canada).
Back at our booth, our colorful taffy, treats-filled old-fashioned glass candy jars and original Mackinac Island fudge samples drew brides and their entourages nonstop throughout the day.
Appearing almost like special ring boxes, our little white favor boxes were a big hit with brides, especially when they learned that they could customize the ribbon colors and favor flavors.
Oh-so-many flavors for oh-so-many favors.
WANT TO LEARN MORE?
For more information about Original Murdick's Fudge Sweet Options, contact our SweetConsultant, Laura Andrews, at laura@originalmurdicksfudge.com. 
P.S. And speaking of wedding shows, we'll also be at The Wedding Show, to be held from 11 a.m.-2 p.m. Oct. 1 at Mission Point Resort on Mackinac Island. Come say hi to us there, sample some treats and also meet other industry and island experts who are sure to make your Big Day extra special!
 Original Murdick's Fudge Sweet Options
For more details on our SweetBar options, see our recent blog post here.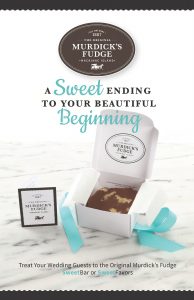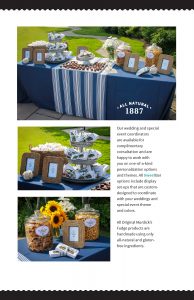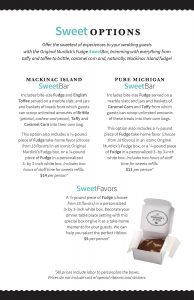 Posted September 15, 2016