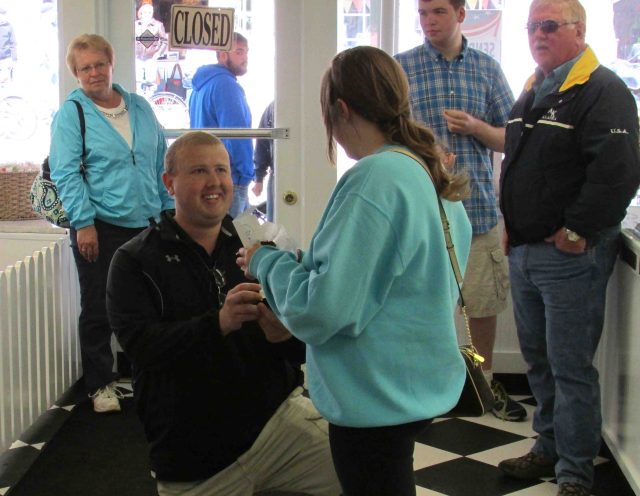 When Edward Feiler, of Arizona, recently wrote to our Original Murdick's Fudge sweet consultants asking us to help run a little marriage-proposal reconnaissance at our Main Street store on Mackinac Island, we were all in!
After all, we are all about romance … and sweets … and sweet romance.
It all started a few weeks ago when Edward shared with us that his girlfriend of three years, Courtney Sattler, who grew up in West Bloomfield, Mich., was crazy for fudge — especially our Original Murdick's Fudge — and that he had an idea simmering in his mind that involved proposing to her at our Mackinac Island fudge shop.
He wrote, "We are traveling to Michigan to visit her (Courtney's) parents and because I have never been to Michigan before. We'll be making the drive to the island … my girlfriend absolutely loves Mackinac Island and last time she went, she brought me fudge from your location. For the past week, all she has been talking about is your fudge and how excited she is to show me the island. I would love to propose to her at your Main Street location. Can you assist me in the proposal process?"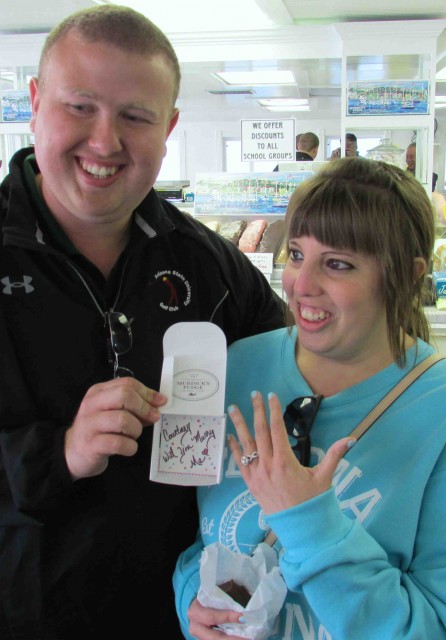 Heck yes, we sure can, and did! We asked Mackinac Island artist Noel Skiba (she's the talented and creative one who painted the scenic vignettes that appear on our special five-slice summer boxes) to craft a little note that says "Will You Marry Me" on a paper that fit perfectly into one of our favor boxes (which, incidentally, are about the size of a ring box!).
Then we placed a sampling of chocolate fudge atop the note and waited for the couple and her parents to enter our store.
It all went super smoothly, as you can see in the photos here. And she did say, "yes!" But not until she enjoyed a little "love at first bite." The first Original Murdick's Fudge of the season for Courtney, that is.
Certainly not the first bite ever because this Michiganian has been here plenty times as a girl growing up in Michigan. On this visit, Courtney, who recently finished graduate school (an education major), and Edward and her family stayed at the nearby Lilac Tree Spa and Hotel.
We caught up with Edward, who is the national sales manager at Hilton Phoenix/Mesa, a few days following his Mackinac Island visit, to get the lowdown on how he thought his surprise proposal turned out.
Here, some sweet granules of the lovebirds' background, fudge-shop flirtations and a few minor glitches:
OMF: Where did you two meet?
Edward: "We met as students at Arizona State University."
OMF: How did you get the idea to do this?
Edward: "She bought me a box of fudge last year and told me how much she loved it and couldn't wait to someday show me the shop, etc., and that's when I got the idea."
OMF: Once you were on the island, how did the surprise proposal go down? Any glitches leading up to it?
Edward: "Oh yes, for sure. Courtney wanted to go to the fudge shop right away and we weren't ready. Her parents, of course, knew about what I was trying to pull off. Her dad had recommended to me that Sunday would be the best day to do it. She wanted to go to the fudge shop Saturday and we kept saying, 'We'll go Sunday and do a fudge shop sampling of all the shops …that will be fun!'
"Meanwhile, Bobby (Benser, Murdick's owner) and I had been texting, but then my phone stopped roaming Saturday night, so I couldn't text Sunday about the plan. We were touring the Grand Hotel Sunday and I had to slip away to call Bobby. I went around the corner, called him and I said, 'Bobby we have to come now,' and he's like, 'Okay, but we'd need to go slowly so there was time to prepare.' And Courtney then kept saying, 'We're here for fudge, let's go!'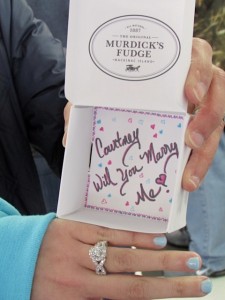 "When we got to the shop they were making caramel corn and Bobby asked Courtney if she'd like to try some, she said, of course, 'No, I'm here for fudge!' She was trying to order fudge and Bobby said, 'Well, on Sundays we give out free favors in little boxes' (which of course, you don't really give out the little boxes), so Courtney took a box and put it in her pocket."
"'You should eat it now,' I remember Bobby saying. So she did. And she finally saw the message in the box, and while she was reading it, I got down on one knee. I had the ring in my hand. And there you have it."
OMF: And?
Edward: "She freaked out! And yes, she said yes!"
A sweet beginning to a sweet happily-ever-after Murdick's fudge story, don't you think?
It's a good bet, says Edward, that the couple will be opting for one of Original Murdick's Fudge SweetBar or SweetFavor options when the big day arrives, to honor their special proposal.
Our consultants consult with various event and wedding planners as well as brides and grooms helping them with their wedding offerings as they select one of the sweetest of experiences for their big-day guests — our Original Murdick's Fudge SweetBar, brimming with everything from taffy and toffee to brittle, caramel corn and, naturally, Pure Michigan fudge!
Our fudge favors (choose from some 16 flavors) also are a great option and come in an iconic Original Murdick's Fudge box, or we offer a quarter-pound piece of fudge in a personalized 3- by 3-inch white box.
Read more about our sweet offerings here.
Posted June 4, 2015