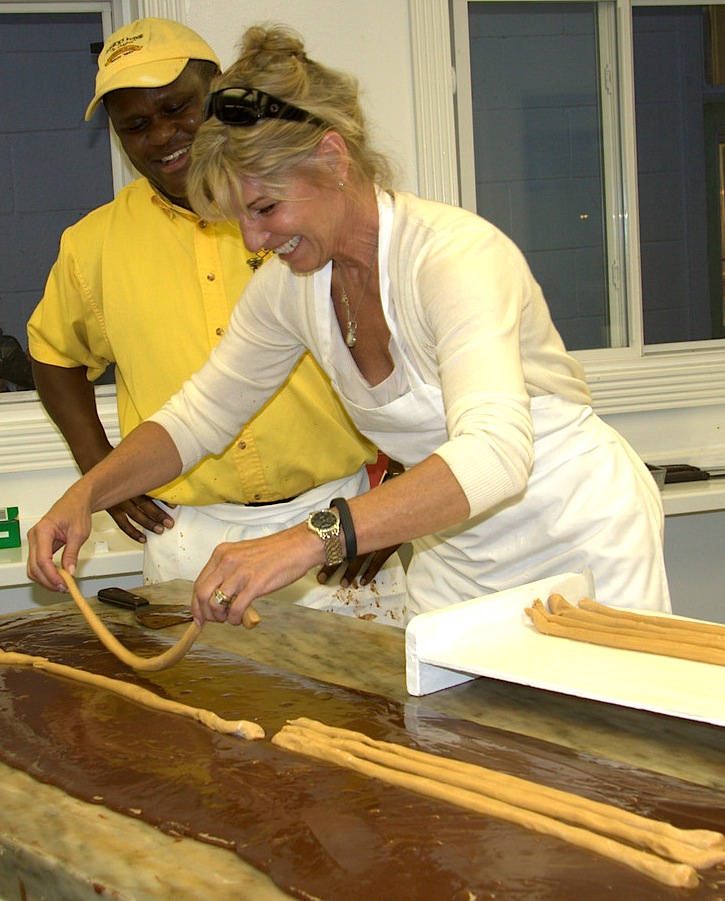 Guest fudge maker Mary Pat Rosen had one sweet time recently, beginning with tying on an Original Murdick's Fudge white apron, to shadowing sweet-shop fudge maker Carnel, to trying her hand (or did she use two?) at shaping the just-poured fudge concoction into a ready-to-slice richly delicious loaf.
"We were on the island with other Cranbrook Schools (Bloomfield Hills, MI) moms (who are friends with the Benser family) for basically a girls getaway to enjoy the Battle of 1814 Re-enactment, take in some sights, dine at the Chippewa Hotel's Pink Pony Bar & Grill, you name it, when all of the sudden I was invited to make fudge!" Mary Pat recalls.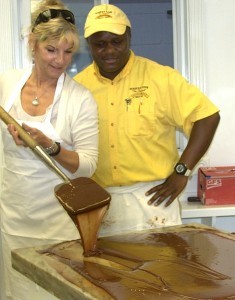 So into Murdick's of  Mackinac's Main Street lakeside shop she ventured to whip up some A-1 chocolate peanut butter deliciousness.
"It was so good; I'd never had fudge warm before," says Mary Pat,  mom of a 20-year-old son.
"I can tell you one thing: It's not easy to make fudge, trying to keep it all on the table is difficult, and yet it seems like it'd be simple! At first I thought, 'I can do that,' and after my first scrape of that Original Murdick's Fudge with the special gadget, I was thinking, 'maybe not!'"
Mary Pat says she now has a true appreciation for fudge makers the world over. "I had a fun time; it was so much harder than I thought it would be," she shares. "Even that flippy part at the end, when you put a little design on the top of the log … not easy!"
Before leaving the shop, of course, Mary Pat had to purchase some fudge for Mom and Dad. "We chose the Turtle variety," she recalls, "because they said get something with chocolate and nuts." They're in for a treat, as Murdick's Turtle fudge also includes a good bit of caramel.
Had Mary Pat made the Turtle variety for her parents, we're not sure if the caramel would have made it into the fudge, but hey, she's game to give fudge-making another try. In fact, she says, "Everyone should try it once in their life. Put it on your bucket (er, should we say … kettle?) list!"
What Do You Think?
Should we offer Mackinac Island visitors a chance to try their hand at making fudge?
Post your comments on our Facebook page if you think Murdick's of Mackinac should offer a Facebook contest for the chance to win and "come behind the gate to tie on an apron!"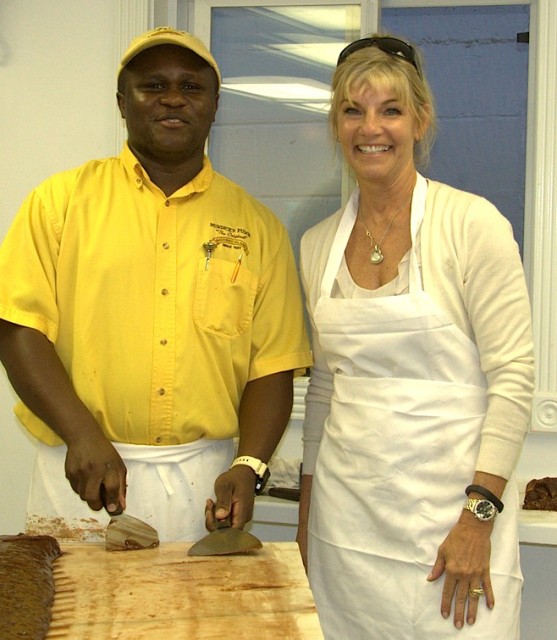 Posted September 10, 2014