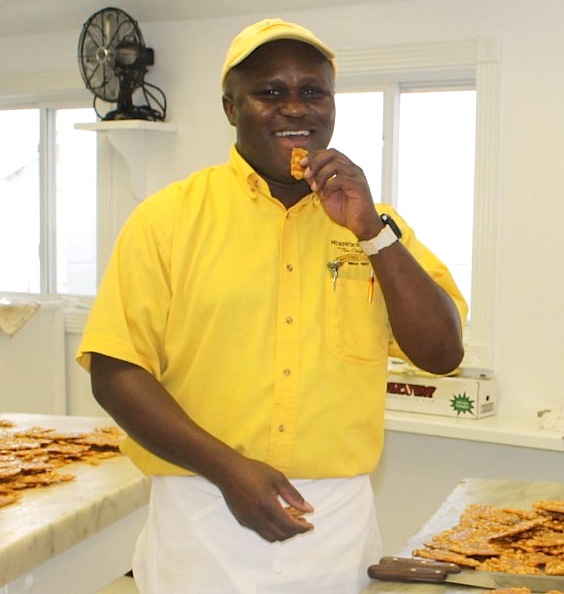 Guest blog post by Brenda Horton, June 8, 2014
"How would you like to come to Michigan and learn how to make fudge?"
That question changed Carnel Samuel's life forever.
Nine years ago, Carnel was standing in line at a job fair in Jamaica, his home country. He'd gone to the fair hoping to be hired by a U.S. employer, although he'd never traveled outside of Jamaica.
When his name was called, Carnel entered a room where Bobby Benser of Original Murdick's Fudge sat at a small table. After chatting for a few moments, Bobby smiled and asked that big question.
Carnel's reply: "Yes, sir! I could do that!"
Carnel confesses that if Bobby had asked him to come to Michigan to sweep horse poop off the streets, his answer would have been the same. He says that he thought Bobby was talking about fudgesicles — the frozen treat on a stick — the only kind of "fudge" that Carnel knew.
Carnel and dozens of other Jamaican workers arrived in Miami in the early spring of 2004. They boarded buses and began the long trip to Mackinac Island. Carnel, although he had lived on an island his entire life, did not like boats and had never been on one until he crossed the Straits of Mackinac the day the buses arrived in Michigan.
During his first year on Mackinac Island, Carnel learned to make fudge, mixing the all-natural, gluten-free ingredients of the Original Murdick's Fudge recipe exactly as it had been done since 1887.
Cooking Mackinac Island fudge also involves bringing the ingredients to the perfect temperature for the conditions inside the shop at the time each batch is made. He says there are many factors that affect Murdick's fudge making, including the humidity outside the Main Street shops.
During Carnel's second season on Mackinac Island, he moved up to fudge slicing and practiced how to cut a 32-pound batch of fudge into exact half-pound slices without using a measuring or weighting instrument.
After that, Carnel became the official fudge maker, the one who handles the fudge from the time it is poured from Murdick's big copper kettles onto the decades-old marble tables as a hot mass of liquid yumminess until the fudge sets up with the exact texture, firmness and flavor customers have come to expect from Original Murdick's Fudge.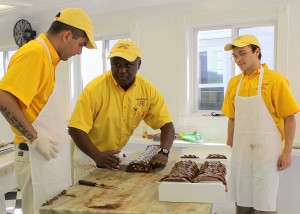 Each season, Carnel now trains young employees from around the globe hired by Original Murdick's Fudge to be fudge cookers and slicers in both of the Mackinac Island Main Street stores. Fudge for Murdick's third island location, the Surrey Ridge Carriage Museum shop, is delivered fresh from the downtown stores.
What brings Carnel the most satisfaction: "When people take a bite of our fudge, smile and say, 'You made my day!'" He hears similar comments from customers many times a day and never tires of it.
Known for his ready smile and positive attitude, Carnel believes fate brought him to that job fair back in 2004. Working for the Benser family and Original Murdick's Fudge changed his life.
Carnel hopes to be making Murdick's original fudge recipe on Mackinac Island for many years to come.
Let's go to Mackinac!
Brenda Horton writes Bree's Mackinac Island Blog. She and her husband, Ted, own a summer getaway on Mackinac Island.
Posted June 8, 2014