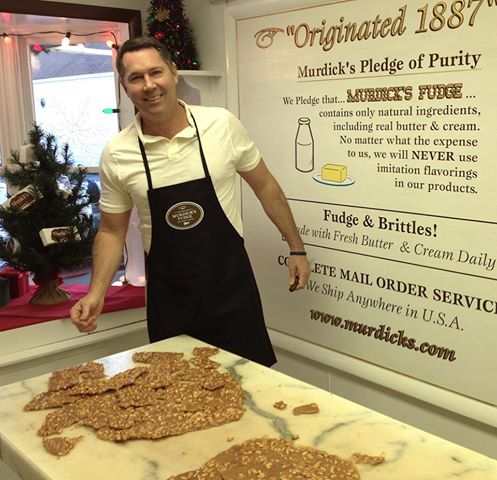 Murdick's Fudge available this holiday
Posted in The Oakland Press, 12-13-13
http://www.theoaklandpress.com/lifestyle/20131213/murdicks-fudge-available-this-holiday
 Bob Benser, Jr., Original Murdick's Fudge owner and a Bloomfield Township resident, has announced Mackinac Island's original fudge shop – Original Murdick's Fudge — has re-opened its white clapboard store on Mackinac Island to make holiday fudge.
"We are excited to be back on the Island making fresh fudge, brittle, toffee and caramel corn through much of December," said Benser. "This is the first time that we've re-opened the shop. Our family is thrilled to be able to be making fudge for the holidays and providing a bit of 'summer' to gift recipients. We have been asked many times over by our customers to ship fudge during the holidays. So this year, we decided to do just that."
The Benser family, which owns five fudge shops in Michigan and locations in Massachusetts as well, is shipping fudge direct from the island now until Thursday, Dec. 19, with a guaranteed arrival in time for Christmas.
Benser runs Original Murdick's Fudge with his father, Bob, Sr., who has been owner for several decades. Also part of the Murdick's team is Benser's sister, Leslie Luciani, of Birmingham, as well as the entire Benser family. Luciani's sons also get into the act, including Joey, John and Michael, all of Birmingham. John, a high school senior, works summers on the island as a fudge maker.
Original Murdick's Fudge is made with fresh, all-natural ingredients, most from Michigan, including sugar, butter, cream, and maple sugar. Handcrafted treats ready for shipping include 10 varieties of Mackinac Island fudge, and three varieties of peanut brittle and English toffee.
Each batch of fudge starts in a copper kettle and is created with attention to indoor, outdoor and marble countertop temperatures, and length of time/temperature required for cooking, boiling, stirring, cooling and shaping. The art of fudge-making at Murdick's also requires a specific turn-of-the-wrist "paddling" technique when shaping the fudge into loaves.
"We have brought back our fudge professionals to make the holiday fudge so that our customers can enjoy only the freshest fudge during this season," Benser says. "Fresh fudge, brittle and toffee … what better way to say Happy Holidays!" Each gift box is decorated with holiday flare — there's even a piece of northern Michigan evergreen in each box.
http://www.theoaklandpress.com/lifestyle/20131213/murdicks-fudge-available-this-holiday