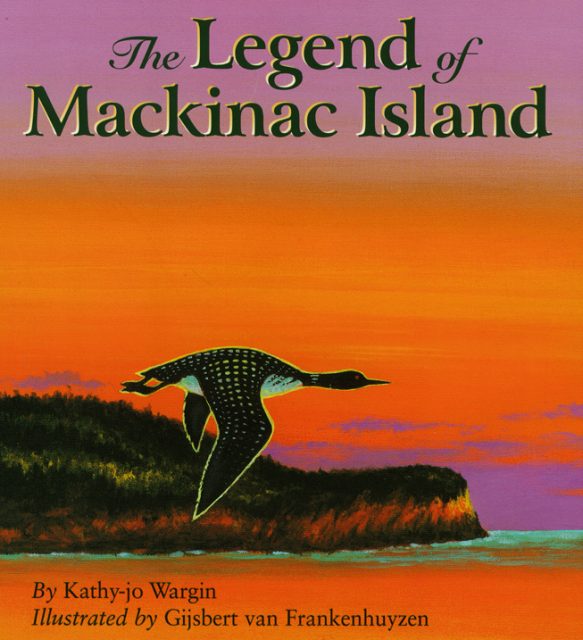 When Original Murdick's Fudge came up with our Turtle fudge flavor, it wasn't by accident. In fact, the Turtle variety's very conception draws on the fact that Mackinac Island itself has for many generations been referred to as the Great Turtle.
But of course, when it comes to legend and how things began way back when, there are always different interpretations.
So let's sloooow down (like a, well, turtle) and sit back for a few minutes to explore how the island's turtle reference actually came to be. (Read on to find out about our oh-so-caramel-y free Turtle fudge deal, too!)
According to many, Native Americans in the Straits of Mackinac region likened the shape of Mackinac Island to that of a turtle, so they named it "Mitchimakinak," which means "Big Turtle." Others state that the area had been named after an ancient tribe that had lived there — the Mishinemackinawgo.
And then there's the legend, cleverly told in the book The Legend of Mackinac Island (the second book in a series of Great Lakes Legends by Kathy-jo Wargin), which shares that a wise, old turtle named Makinauk told other animals one day that the Great Spirit in the sky asked him to create a new land.
The creation was to be accomplished by putting a handful of the bottom of Lake Huron on the turtle's back. After several animals tried, an unlikely candidate (a muskrat!) returned to the surface with the soil. Upon placing it on Makinauk's back, the turtle was transformed into a great island.
"I have always been deeply passionate about
Great Lakes folklore
, history, lifestyle, and nature," Kathy-jo tells us. "While doing Great Lakes research, I was inspired to write and include 
The Legend of Mackinac Island
in the series because of the many lessons it represents, and because of how important Mackinac Island has been to the whole of the Great Lakes." (
Read more about her book here. It's available at The Island Bookstore.)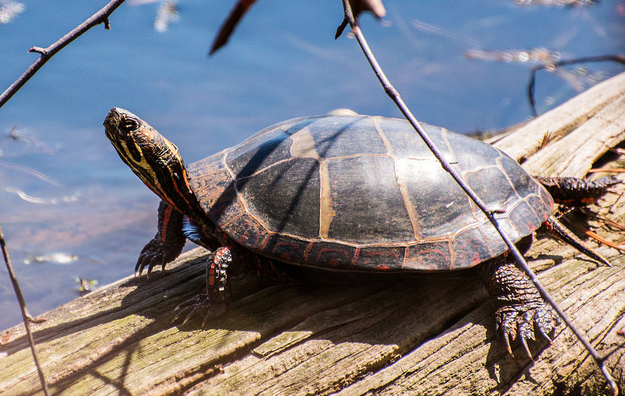 As for that muskrat, Kathy-jo says his friends — loon, beaver, and otter — actually laugh at him when he offers to help. "But muskrat is humble; he doesn't engage with their laughter. Instead, he dutifully goes to the bottom of the lake to earnestly work at getting the soil." And thus a wonderful legend unfolds!
Storytellers long ago also stated that when the world was very, very young, a turtle was lured north by lights to a point of land between Lake Michigan and Lake Huron. As winter arrived, he stayed there and eventually grew into an island, which the Indians named Michilimackinac (the Great Turtle).
As you can see, various Mackinac Island legends relate to the turtle's tale. The thing is, we may never know exactly how the turtle reference came to be, but one thing's for certain, Mackinac Island is definitely a cool turtle, sitting out there in Michigan's gorgeous Straits of Mackinac.
And of course, we'd be remiss if we didn't mention that the painted turtle was designated the official state reptile of Michigan in 1995 —this is a turtle-crazed state we live in!
TURTLE FUDGE HISTORY
That said, let's now take a quick look at the legend of turtle candy. DeMet's candy company, which opened in 1916 in Chicago, first created the turtle we know today as the chocolate-caramel-nut cluster that looks like a turtle. They of course became wildly popular, and why wouldn't they with all that caramel goodness?
Eventually, Original Murdick's Fudge turned our  thoughts to turtle-style fudge, not only because we recognize the perfection you get when combining nuts, chocolate and caramel, but also as an honorable nod to our Great Turtle island, one of the world's most beautiful fresh-water sites.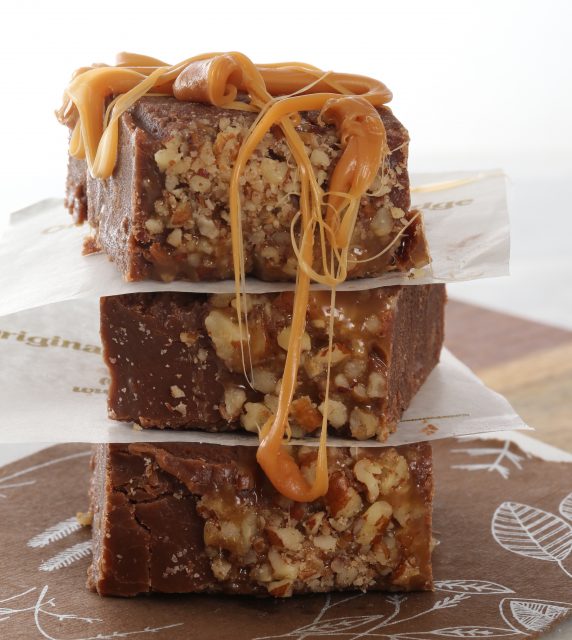 We took our sweet time, of course (just as a turtle would!), perfecting our Turtle fudge. The results? A fantastic, caramel-y, sticky-sweet and totally addictive fudge brimming with fresh, chopped pecans. It's slooooow good!
SPECIAL OFFER: In honor of our "turtle island," we're shelling out a not-to-be-missed deal — anyone who makes an Original Murdick's Fudge online order now through midnight on Oct. 11 will receive a complimentary slice of  Turtle fudge!
You'll want to act fast on this slooow-good offer. So order your fudge online today!.
And then check our Facebook page this week for more on how to enter our contest to win a copy of The Legend Of Mackinac Island!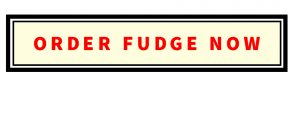 Posted October 4, 2016