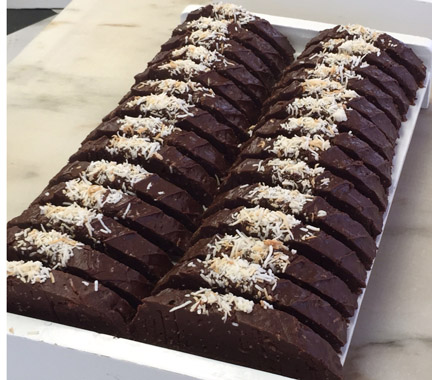 When you're on idyllic Mackinac Island in Michigan's beckoning Straits of Mackinac, every day is special and worthy of a toast!
But on Tuesday, June 16, Original Murdick's Fudge will be 'toasting' like crazy as we pour out our new super-delish National Fudge Day flavor for 2015 — Salt Toasted Coconut Double Chocolate.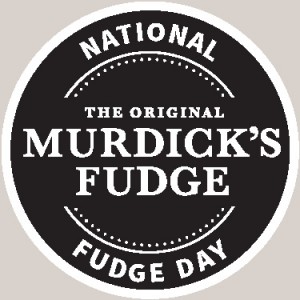 We've put this enticing combination of flavors through the test several times these past few weeks and now prounonce it … exquisite!
And because we love it so much, we're hoping you'll try it, too, so we're giving it away on Tuesday, June 16 at our two downtown Mackinac Island stores. Be sure to stop in!
Your National Fudge Day flavor taste journey begins the second you break our new Fudge Day seal on your special box and feast your eyes upon what's inside, a veritable mountain of deep-dark chocolate capped with a sprinkling of coconutty goodness.
You'll experience an indulgent slam-dunk of Belgium chocolate leading quickly to hints of sea salt and textured notes of house-toasted coconut.
"It's that sweet-and-salty combo that seems to win hearts over every time," says Original Murdick's Fudge owner Bobby Benser, who adds that the recipes he and his team use for this and all varieties of fudge feature only all-natural ingredients, most from Michigan including the sugar, butter, cream and more.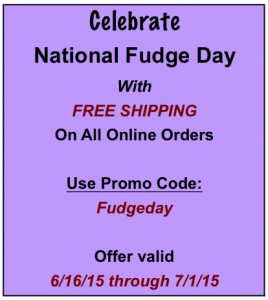 And because National Fudge Day comes around only once a year, we can't stop with just one special. Not able to visit America's most beautiful island on June 16?
Check out our free shipping deal for online orders, which are good through July 1.
---
See other media stories about National Fudge Day on beautiful Mackinac Island.
 As you are our best taste testers, do tell us what you think! 
Posted June 13