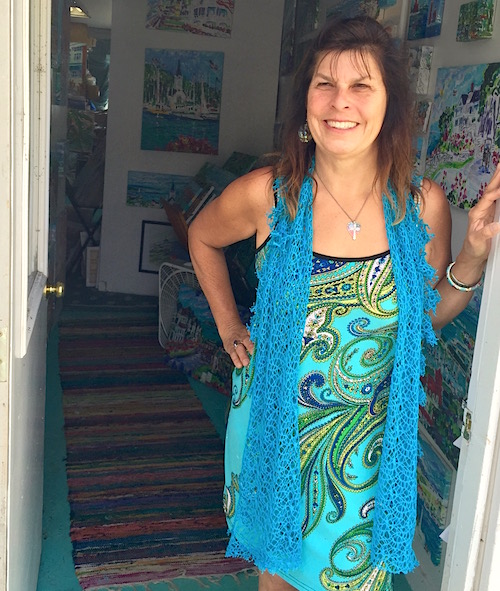 A picture tells a thousands words. Our
Original Murdick's Fudge
team knows that for sure. Just look at artist
Noel Skiba's
special Mackinac Island Harbor painting that graces our exclusive
five-slice summer gift boxes.
To continue our colorful fudge box tradition, we need your help to decide which of Noel's two newest Mackinac Island paintings to use for our next box.
See the details below on how to vote for your top choice.
There's no place on earth more inspiring for artists than on idyllic Mackinac Island. With expansive Great Lakes waters, Straits of Mackinac sunrises and sunsets, a vibrant boating scene, postcard-perfect village streets, horse-drawn carriages and blooms upon blooms, garden after garden, the island is an artist's dream come true.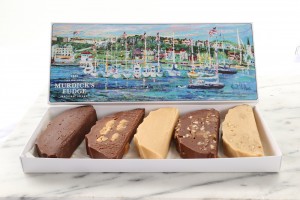 The popularity of our five-slice, art-adorned package that leads your eye to the hustle-bustle of the island's painterly Mackinac Island Harbor during the annual Bell's Bayview Mackinac Race from Port Huron has lead us back to Noel's studio in search of yet another wonderful iconic scene.
Noel recently shared with us two paintings that venture down Main Street and over to and above Ste. Anne Church. The artist, who creates impressionistic works of the island's cottages, gardens, street scenes and lakeside vistas, shares that these two (shown below) are a couple of her favorite works.
"It took me several months to paint these," says Noel, who's been an artist "since age 2!" For these two recent paintings, up and down the bluffs she'd go daily (unless there's rain in the forecast, of course) with canvas and paints in tow to capture these scenes.
The original panoramic rooftop view is for sale, while the other has already sold (no surprise!).
"There's some line work showing, some scraping, and lots of texture," she explains of the panoramic painting. "It was interesting to paint these because as I started, the lilacs weren't in bloom yet, so there wasn't a lot of foliage, etc. blocking the roofs and buildings and I could see a lot of the structures."
Then the lilacs bloomed and Noel sprinkled the piece with lavenders, purples, verdant greens and pinky-lilacs to convey the very essence of the island's iconic blooms.
"In the panoramic, I tried to include all that's Mackinac," she adds, referring to different types of boats, lilacs, a passing freighter, a horse in a little corral and more.
Very soon, we'll select one of the paintings for our next gift box.
The Street Scene shows a stunning view of the Ste. Anne Church's steeple, the flower-lined street and the horse carriage, while the Rooftop Panoramic, as mentioned, treats you to not only that historic steeple, but also a breathtaking view of the harbor, dock, and more of the island … and don't miss that freighter!
We Need Your Help
Please vote for your favorite! Let us know which painting you prefer — Rooftop Panoramic or Street Scene — and why in the comments box below. Or you can post a note about your choice on our Facebook page.
The best explanation will win free fudge at a later date!
DO YOU LIKE THIS ROOFTOP PANORAMIC … OR …

… DO YOU LIKE THIS STREET SCENE?

VOTER'S SPECIAL: As a thank you for voting, please enjoy a 15% discount on your Original Murdick's Fudge online order of our Sweet Summer treats. Visit our online Mackinac fudge store here and enter the code "I Voted" at checkout.
Thanks for your vote and support! We hope to see you soon on Mackinac Island.
Posted Aug. 24, 2015 Mackinac Island's Most Famous Fudge