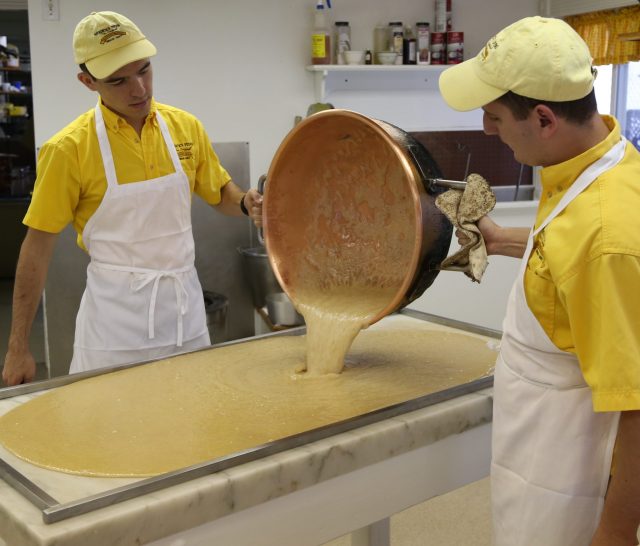 The Mackinac Island Fudge Festival will be going full steam ahead beginning Friday, Aug. 21 and running through Sunday, Aug. 23. Our gang at Original Murdick's Fudge has a kettle-full of fun in store for visitors and also fudge lovers who can't make it to the island.
"Our fudge family is celebrating the sweet treat with a brand-new flavor, a limited-edition fudge pizza, fudge give-aways and a Michigan-made craft beer tasting featuring chocolate fudge," says Bob Benser, Jr., of Original Murdick's Fudge. "No kidding, fudge beer!"
We're giving away 20 slices of fudge Friday, Saturday and Sunday to the first 20 folks who visit our main downtown location on the south side of Main Street.
As for that new flavor … gather 'round the fudge tables at the Original Murdick's Fudge shop on Main Street on Friday to see our celebrated fudgemakers whip up the first official batches of … (drumroll, please!) … Roasted Crunchy Peanut Butter Fudge!  
"This new flavor will feature all of the wonderful qualities of our popular Peanut Butter Fudge, but now with the crunchiness of roasted peanuts," Bobby shares.
The Benser family also is rolling out Fudge Pizza in their Main Street Island Slice Pizzeria. "This Double Chocolate Fudge Toasted Coconut Pizza is a special edition," Bobby says, "and it will be served throughout the weekend (a large "sweet pizza" sells for $19).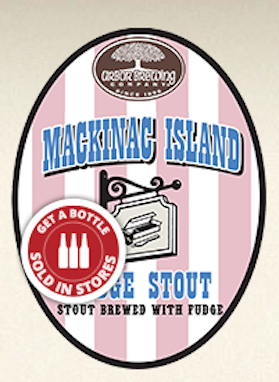 Meanwhile, beer enthusiasts can sample Fudge Beer at The Pink Pony from 3-5 p.m. on Friday and Saturday. Michigan's own Arbor Brewing Co. created Mackinac Island Fudge Stout especially for the festival.
Some of the other popular weekend events include: Dining Under the Influence of Fudge, Fudge on the Rocks, the Great Turtle Slow Ride and the coveted "Daddy, I Want the Golden Ticket" vacation giveaway. Click here for more information.
FESTIVAL SPECIAL: Original Murdick's Fudge offers free shipping on any fudge order Aug. 21-28. Check out our online fudge store here. 
Posted Aug. 20, 2015 Mackinac Island's Most Famous Fudge