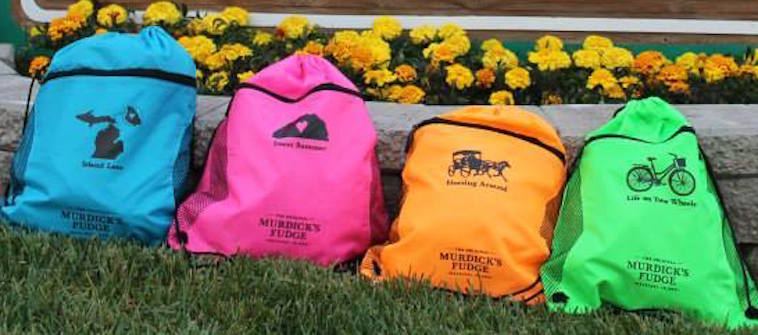 They're here! We introduced our first-ever drawstring sling bags, good for toting all you need during your Mackinac Island getaway.
Whether you sling it on your back, let it dangle from your shoulder or toss it into your bike basket, be sure to stuff the Original Murdick's Fudge drawstring bags with island essentials — suntan lotion, water, sunglasses, a sweatshirt for when those island breezes glide in, a pair of small binoculars (to spot a ring-bill gull or pileated woodpecker) and fudge, fudge, fudge!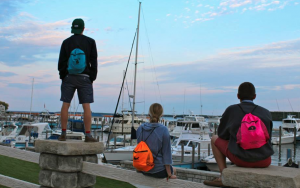 The bags pop in taffy-licious colors reminiscent of our summer saltwater taffy flavors! What's your fancy? Blue? Orange? Pink? Or maybe green? We have all four mouthwatering colors, and each features a recognizable Mackinac Island graphic, including a slice of fudge, horse-drawn carriage, state of Michigan or bicycle.
"We introduced these bags not only because they are practical," says Original Murdick's Fudge owner Bobby Benser, "but also because once you're home, they're a great reminder of fun island memories. Also, we love the size. They're lightweight and not too cumbersome or heavy — perfect for just strolling or cruising the island."
Right now and for a limited time, the sling bags are complimentary with an Original Murdick's Fudge purchase of $30 or more at our Mackinac Island fudge shops. Or purchase them individually for $6.95 each. So stop in to one of our three Original Murdick's Fudge stores on the island and … pack up!
We'll keep you updated as to when the backpacks will be available to order online.
Posted July 10, 2015