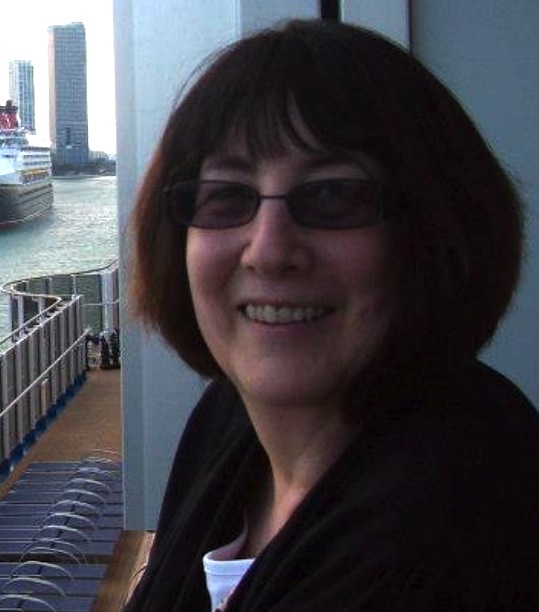 Patti takes some time off from the fudge shops to enjoy traveling with her husband, Bruce.
Guest blog post by Brenda Horton
A Mackinac Island help-wanted sign changed Patti LaPine's life.
While visiting the island in 1974 with her sister from North Muskegon, Mich., they stopped to look inside the Original Murdick's Fudge store window on Main Street.
There, they watched the fudge makers work their magic on the marble tables — turning the hot, aromatic chocolate concoctions into delicious slices of the sweet treat known worldwide as the ultimate in comfort food.
Glancing down, Patti noticed a small "Sales Girl Wanted" sign in the window. She walked inside, and was interviewed and hired on the spot by owner Bob Benser, Sr. She worked that very summer on Mackinac Island.
Patti started college in 1976 and enjoyed a little traveling before she returned in 1977 to work again for Mackinac Island's original fudge company.
In essence, Patti's initial short island vacation in 1974 turned into what would soon become a 40-year career with Original Murdick's Fudge. Patti celebrated her big anniversary on Wednesday, Aug. 27!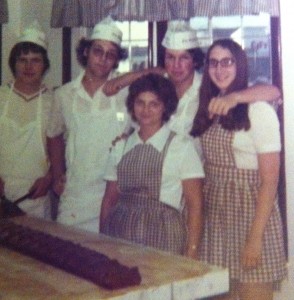 Patti has seen few changes in the way Murdick's original, all-natural fudge recipe is made over those 40 years.
"We basically do it the same way now as we did back then. New flavors may be added, but we still cook in the cooper kettles and pour our fudge out on the marble tables to `make.'  We are a very traditional business," she says.
Patti still sells Murdick's fudge, brittle, toffee and caramel corn from behind the counter, but her responsibilities have grown over the years. She now trains the young employees, who come from all over the world to work for Original Murdick's Fudge every summer.
"That's what I love most about my job," she adds. "These college students come to the United States for the first time and must adjust rapidly to only speaking English. Then they must learn all about our products and how to deliver good customer service. I love getting to know them over the summer!"
Patti met Bruce LaPine, a member of one of the original five Mackinac Island families, in 1975. They were married in 1979.
Year-round Mackinac Island residents, Patti and Bruce (Bruce once worked for Ryba's Fudge, also on the island) enjoy the freedom winters bring to their slice of Pure Michigan when she is not working in the fudge shops. "I couldn't imagine living anywhere else," she says.
During the off-season, the couple enjoys traveling, but always loves returning home to Mackinac Island.
"There's so much to do here in the winter, with snowmobiling, community activities, and just getting together with family and friends … we love Michigan," Patti says.
"Plus," she adds, "the Bensers are a great family to work for. I'm so glad I saw that help-wanted sign."
Brenda Horton writes Bree's Mackinac Island Blog. She and her husband, Ted, own a summer getaway on Mackinac Island.
Posted August 28, 2014