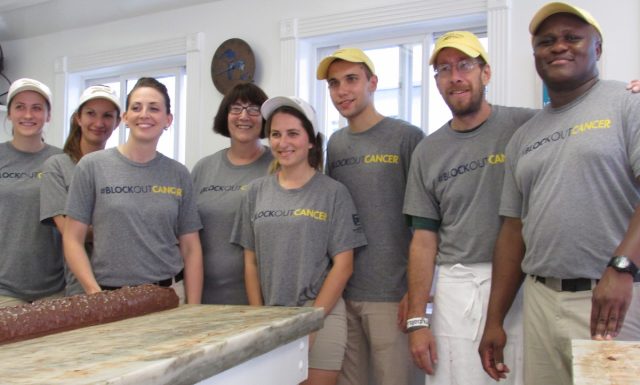 Original Murdick's Fudge is proud to be a partner in raising funds and awareness for the C.S. Mott Children's Hospital's "Block Out Cancer" campaign.
We're stirring up much-needed fundraising support with our corporate matching sponsor program and sweetening the pot, which means we'll match donations given during Sept. 21-27 through this special LINK.
The University of Michigan C.S. Mott Children's Hospital's "Block Out Cancer" program works to build awareness and raise funds for increased cancer research for children with cancer.
September is Childhood Cancer Awareness Month.
"Only 4 percent of National Institute of Health (NIH) research funds go toward pediatric cancer, but that is the leading cause of death in children," says Rebecca Priest, a spokesperson for the hospital. "One in five children diagnosed with cancer die from the disease."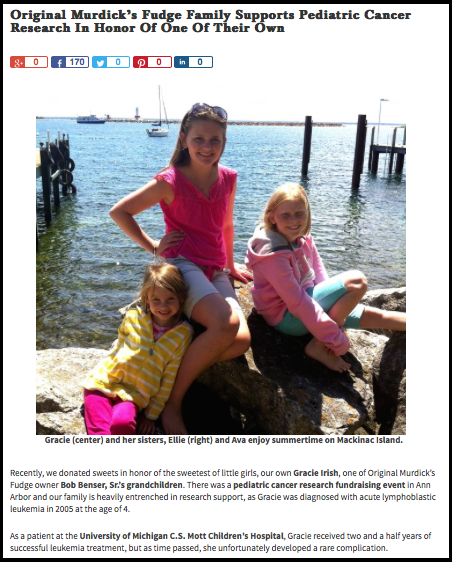 Our Mackinac Island fudge family is very aware of this, as one of our own has been touched by the disease. It's for her and all the other kids with cancer that Original Murdick's Fudge wants to help support this cause.
"The research at Mott is near and dear to our family's hearts," says Bobby Benser, Jr., owner of Original Murdick's Fudge on Michigan's Mackinac Island.
Bobby's niece, Gracie Irish, was diagnosed with T-cell acute lymphoblastic leukemia when she was 4 years old (she's now 14).
After enduring two-and-one-half years of treatment at the University of Michigan C.S. Mott Children's Hospital, Gracie was diagnosed a year later with an extremely rare tumor in her tibia.
With no known course of treatment, she went through multiple unsuccessful surgeries and rounds of chemotherapy.
Just when things were looking rather bleak, the brilliant minds at Mott Hospital came up with a potential solution — they tried a drug that proved to be a huge success. This treatment was later published in the American Journal of Medicine.
Read more about Gracie's battle here.
It's these types of cases that show us how hard the men and women are working at Mott Hospital, not only with Gracie's case but also with so many others that baffle doctors worldwide.
"Everyone can help in a small way," adds Rebecca, who explains that "Block Out Cancer" started three years ago. "We're building on this program, and we're excited that organizations like Original Murdick's Fudge are part of it."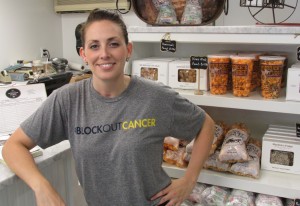 Original Murdick's Fudge team members also will be sporting special T-shirts Sept. 21-27 during its corporate-match campaign to further support the "Block Out Cancer" campaign.
"While we've made progress to help kids with some types of cancer, like leukemia," Rebecca explains, "other cancers that are more complex (and those that are secondary cancers, after the first is treated) are more difficult to treat, and doctors are stuck using the same treatments they used 40 years ago."
Advancements in this area are taking place right now in our own backyard at the University of Michigan Comprehensive Cancer Center and C.S. Mott Children's Hospital in Ann Arbor, Mich.
Current exciting research includes using information from a patient's entire genome, which has been helping to suggest personalized treatment options for nearly half of children with cancer, and led to specific treatment changes in a quarter of these patients.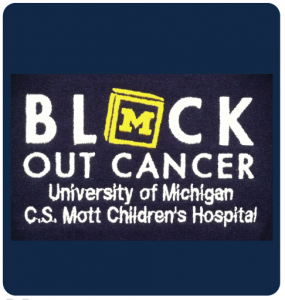 The study is based on a program implemented at Mott in 2012 called Peds-MiOncoSeq, which includes sequencing a tumor's DNA and RNA as well as normal DNA from children and young adults with cancer that has relapsed or that is rare.
Results from the first 102 patients enrolled are published in the Journal of the American Medical Association.
"We found that for some children with rare, difficult-to-treat and aggressive cancers, this technology can dramatically change the course of their treatment," says lead author Rajen Mody, M.D., M.S., pediatric oncologist at U-M's C.S. Mott Children's Hospital.
"We have made significant strides in cancer treatment, but for some kids — especially those with metastatic or relapsed disease — even the most advanced, proven therapies have not been able to improve their outcome," Mody says.
"Our approach in precision oncology showed its greatest promise in these difficult to treat patients — 80 percent of our study patients had relapsed or refractory disease, and those are the ones who benefited most from our study."
As well, Mott is one of only a handful of children's hospitals in the country offering an innovative t-cell therapy clinical trial, which uses patient's own immune cells to fight ALL (acute lymphoblastic leukemia).
In addition, Dr. Elizabeth Lawlor's lab at the hospital is studying what happens during the creation of a cancer cell, which could help them find ways to nudge these cells back into normal behavior.
That's so much important and crucial research going on in our neck of the woods!
In 2014, more than $26,000 was raised for pediatric cancer research through donations," adds Rebecca. "While our major promotional campaign focuses on September, it's truly meant to be a year-round movement through which individuals and groups can engage with us and be a part of helping find cures."
How You Can Help
There are several ways that you can do your part.
Please donate whatever you can through this link. Original Murdick's Fudge will match your donations! Note: Be sure to click on our "Join Team" tab under Original Murdick's Fudge Team Gracie for matching contributions.
"You can buy a shirt at mottchildren.org/blockoutcancer. We're seeing a lot of T-shirt-wearing folks on social media," Rebecca reports. One of those is Meryl Davis (the Olympic skater from metro Detroit), who recently posted a picture of herself donning the shirt. "We're encouraging everyone to spread the word."
Set up a fundraising page. Not everyone can afford to give a financial gift of their own, but they can build a fundraising page to rally support. All proceeds (including T-shirt sales) go toward pediatric cancer research at the University of Michigan's research labs.
A Sweet Idea
Are you as sweet as a slice of fudge?
Show your sweet side by helping support research to cure children's cancer. Give whatever funds you can and we'll match it, or pull on a sweet T-shirt for the cause!
Find T-shirts for purchase and other ways you can help at mottchildren.org/blockoutcancer. And please share this with friends, family and others to help "Block Out Cancer" for good!
Posted September 19, 2015  Mackinac Island's Most Famous Fudge