The lilacs may be blooming in lower parts of the state, but up here on beautiful Mackinac Island, they're just barely showing a bud. But soon, they'll explode for our annual extravaganza with violets, purples, lavenders and more as they color the island with their aromatic splendor.
And with that sprouts the highly anticipated 68th annual Lilac Festival, which runs June 3-12 and features everything from the budding beauties themselves (some of which were brought to the island during the Colonial era!) and the coronation of the Lilac Festival Queen and Court, to a fun 10K run (June 4), Grand Hotel history presentation, concerts and wine tastings.
We at Original Murdick's Fudge are just now putting the finishing touches on our special Lilac Festival drawstring bags, shown here.  They feature a lilac graphic and fun saying: Stop and Smell the Lilacs. Its color? Lilac, of course!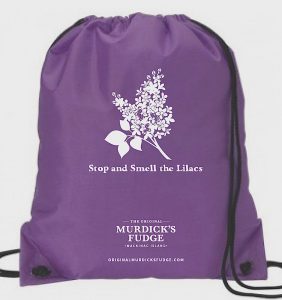 "We introduced these bags not only because they are practical," says Original Murdick's Fudge owner Bobby Benser, "but also because once you're home, they're a great reminder of fun Mackinac Island memories. Also, we love the size. They're lightweight and not too cumbersome or heavy — perfect for just strolling or cruising the island."
Right now and for a limited time, the sling bags are complimentary with an Original Murdick's Fudge purchase of $35 or more at our Mackinac Island fudge shops. Or purchase them on the island for $6.95 each.
So stop in to one of our three Original Murdick's Fudge stores on the island (or visit originalmurdicksfudge.com) and … pack up!
Whether you sling it on your back, let it dangle from your shoulder or toss it into your bike basket, be sure to stuff the Original Murdick's Fudge drawstring bags with island essentials — suntan lotion, water, sunglasses, a sweatshirt for when those island breezes glide in, a pair of small binoculars (to spot a ring-bill gull or pileated woodpecker) and fudge, fudge, fudge! You'll want plenty of treats during all of the Lilac Fest activities.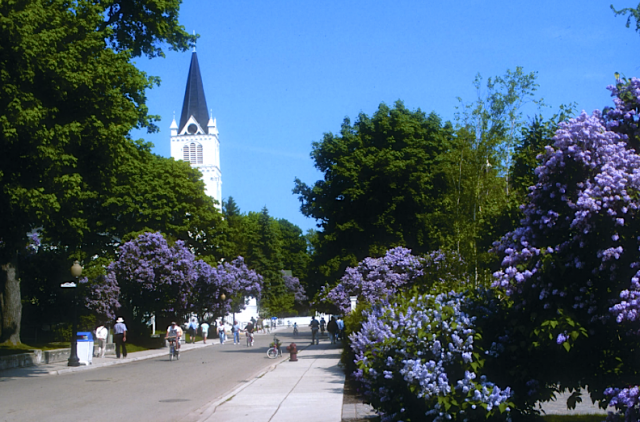 "Lilac Festival time is the best time of the year to visit Mackinac Island in my opinion," says Wendy Jennings who has fond memories of a past lilac fest that she attended with members of the Garden Club of Michigan.
"It's the most beautiful time of the year and I've been to the island in the summer and the fall as well," adds the Grosse Pointe, Mich. resident. "I know that there are a lot of festival attendees, but it seems just more peaceful this time of year, than later in the summer during the peak of the vacation season."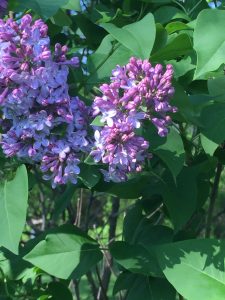 Green thumbs are sure to enjoy learning more about cultivating lilacs during various festival walking tours with lilac growers and experts.
Our Original Murdick's Fudge staff also enjoys the festival activities as well as how the island is awash in breathtaking colors.
"I like to pass by the lilacs on my way to and from work," says fudge maker Carnel Samuels, originally from Montego Bay, Jamaica. "My favorite lilac colors are in the lighter tones."
Sales associate Alexus Thompson, who grew up in Gaylord, agrees with Carnel. "I like the lighter lilacs," she says, adding that she also likes to try to attend the parade because each year "there's something different to see."
Twenty-year island resident, Mackinac Island High School sports coach and city recreation director Mary Patay tells visitors not to miss the parade ("it's awesome!" she says) or the "fabulous Taste of Mackinac." She's also quick to tell visitors to "be sure to not only enjoy Main Street, but explore the rest of the island, too."
Popular festival activities include Clown Bands, and sunset and rise 'n' shine cruises also are on tap. Those who like to kick it up a notch can literally do just that at the line-dancing party on Market Street.
Oh, and you can't miss the Mackinac Island Dog and Pony Parade on June 11. Also, prepare your taste buds as they are sure to delight, notes Patay, in a mélange of culinary offerings during Taste of Mackinac. Visitors can choose from cuisines that range from Colonial to contemporary and include everything from New American, French and Irish to Mexican and Jamaican!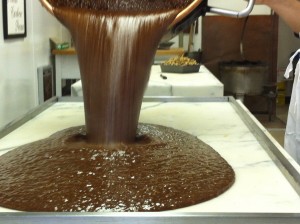 One of the 10-day-long extravaganza's highlights is, of course, the aforementioned Lilac Festival Grand Parade, which closes the big event on June 12.
So much to do and see!
Wendy even goes so far as to say the Lilac Festival and Mackinac Island are as fun as an exotic getaway. "I had been to Italy for two weeks just before going to Mackinac. In Italy, I took over 400 pictures. But on Mackinac Island, I took 600 in three days and had a better time!"
Of course, she sampled lots of fudge while enjoying the festivities, but proclaims Original Murdick's Fudge as her favorite.
Insider tip: Be sure to check out the grounds at Harbour View Inn, where some of the island's oldest lilacs are still swaying in the island's magical lakeside breeze.
Click here to see a full schedule of Lilac Festival activities.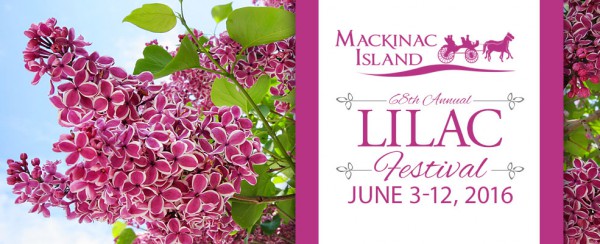 Posted by Megan Swoyer on May 21, 2016