Original Murdick's Fudge loves to "do favors" for various hard-working nonprofits.
We prepared 250 of our fudge favors that will sweeten a great event for Detroit's Cristo Rey High School.
As we are sweet on education, we sent a fresh mix of our Mackinac Island fudge favors that's sure to sweeten the school's annual spring fundraiser, "Gems of Detroit," held May 8 at Detroit's Eastern Market. Food, music and products that make Michigan great are on tap; all proceeds will directly benefit the school's 282 students. Fiat Chrysler Automobiles is the title sponsor.
Partygoers will also have the chance to speak with Detroit Cristo Rey students about their high school experience and their plans for college and beyond. School president Michael Khoury has been a delight to work with and we're so happy we could add a touch of Pure Michigan sweetness to this treasured event.
Sweet Treats For Kids
Meanwhile, we've also been teaming up with Mike Hartwell, associate director of Children's and Women's Health at the University of Michigan Health System Office of Development. He's helping to orchestrate the annual U-M CHAMPs for Mott event that will run May 15-18.
Its main sponsors are Delta and Lexus of Ann Arbor. The event will help support the University of Michigan C.S. Mott Children's Hospital, of which we are strong supporters and have called on its expert medical care for one of our own!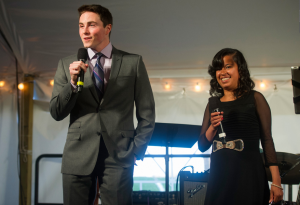 Eventgoers will enjoy 200-plus double-chocolate favors during one of the weekend programs.
Original Murdick's Fudge will be among some 17 chefs from around the state and country who will host food stations!
The event brings together celebrities, health care leaders, athletes, musicians and philanthropists to help raise much-needed funds for the children at Mott — one of the top-10 children's hospitals in the United States.
Funds will specifically help support the U-M Congenital Heart Center and the Charles Woodson Clinical Research Fund (both at Mott Children's Hospital).
The U-M Congenital Heart Center has a vision to not only help children from across the world with life-threatening heart disease survive, but also to help vastly improve their quality-of-life into adulthood.
The Charles Woodson Clinical Research Fund supports research investigators who are tirelessly working to advance new therapies for serious childhood disease and conditions that limit a child's lifetime potential and helps to accelerate innovative ideas, bringing concepts closer to real cures.
Some of the weekend's events will take place at a Zingerman's Deli facility, a Delta Air Lines airplane hangar and at Oakland Hills Country Club. Original Murdick's Fudge is honored to be a part of such a creative rollout of activities. And we are ever so  grateful for the work the hospital is doing to create innovative ideas for improving children's health.
Both health and education is extremely important to Original Murdick's Fudge. We applaud the tireless efforts these two organizations put forth to make our world better — and, of course, a little sweeter, too!
Learn more about Cristo Rey High School, on West Vernor in Detroit and sponsored by The Sisters, Servants of the Immaculate Heart of Mary and The Basilian Fathers, at www.detroitcristorey.org.
For more information about the U-M CHAMPs for Mott, click here.
Posted May 8, 2015