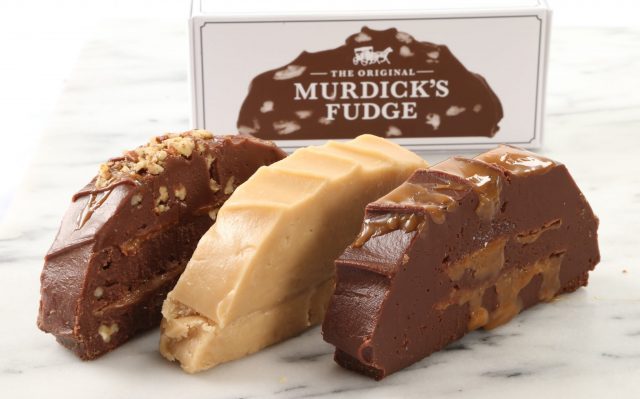 We're divulging our Original Murdick's Fudge secret ingredients today! It's … (drum roll, please!) … it's two heaping scoopfuls of tradition and technique!
And what better time to share some of that with you than now, during this the most traditional season of the year – the Sweet Holidays on Mackinac Island?
You can pretty much find the main ingredients of fudge online or in cookbooks. And yes, those ingredients can vary from candy connoisseur to home chef to fudge emporium. Some add lecithin as a preservative (we don't). Some add vanilla. Some use wooden spoons and others plastic or steel. That's all fine and good, and we're betting you have your favorite fudge recipe, too.
But here's the one big difference you sense when biting into a piece of Original Murdick's Fudge. While you absorb the essence of rich cocoa, the swirls of caramel, the earthy flavors of nutty goodness, or the zingy ting of mint, you're taking a veritable walk back in time to more than a century ago. #makeitmackinac
Our Back Story
Let's sojourn back to the 1880s for a bit, shall we? The fudge-making picture on Mackinac Island looks a bit like this: Sara Murdick is perfecting her fudge recipes while her husband, Henry, and their son, Jerome, are busy at the illustrious Grand Hotel, hauling out their handmade awnings (created out of sail cloth) at the soon-to-be-open hotel that would dazzle visitors for years and years to come.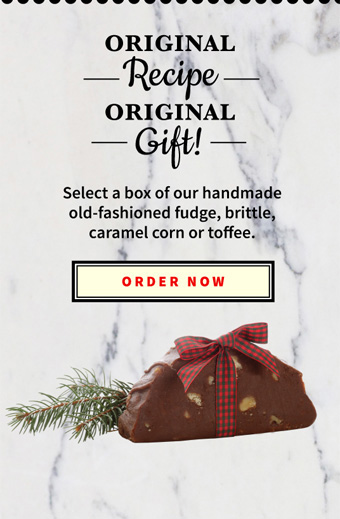 On Sara's mind were things like weather, tabletop temperatures and how best to work her spatula or wooden spoon as her fudge becomes firm.
She, of course, shared her confectionery successes with her family, various island workers and their children, and she likely delighted in the joy on the faces of those who sampled her sweets.
But back to fudge-making. Oh, the things she had to think about to get it just right! But get it right she did, and in 1887, Sara and her family opened Mackinac Island's first candy shop — Murdick's Candy Kitchen.
Henry Murdick continued to make sails in the back of the shop, while up front, Jerome began to help craft fudge using his mother's recipes.
Their renowned marble table gave the fudge a unique texture and also provided a "stage" on which to show visitors how fudge is made.
Let's take a sweet skip forward several decades to 1955. Jerome Murdick is much older now and running the business with his wife, Grace. A young entrepreneur named Bob Benser, Sr., who ran a Tastee Freeze ice cream shop next to the candy kitchen, often would visit the Murdick's and especially as Jerome became too ill to run day-to-day candy-kitchen operations.
Jerome and Grace treated Bob like a son, showing him their special fudge-making techniques. Eventually, Bob stepped in to help Grace keep the business open. Within that simple fudge shop, Bob was given Sara's secret ingredients — tradition and technique.
Oh, if those white clapboard walls (still standing!) could talk! After leasing and operating the business for  a few years, Bob Benser, Sr. purchased the Murdicks' family business in 1969 and continued to honor those special fudge-making secrets passed down by Sara.
Now, we're not going to share the specifics here, of course, but do know that Bob has divulged the deep-seated fudge-making process and know-how to his son, Bob, Jr., who runs Original Murdick's Fudge and continues to this day to take on a few special apprentices every year.
Those apprentices, by the way, are carefully selected (think Santa and his loyal elves). They go through a thorough and in-depth program before a fudge paddle is passed to them. And that's just as Sara, Henry, Jerome and Grace Murdick would have wanted it.

Special Holiday Gifts
In the spirit of Sara's sweet traditions, Original Murdick's Fudge presents seven holiday gift box selections in our online store this season. Our customers love these gifts for family, friends or business associates.
You can even customize your order with any combination of fudge, toffee, brittle and caramel corn.
Sweet holidays!
#MakeItMackinac #MackinacFudge #FudgeRecipes #MackinacIsland #HolidayGifts #PureMichigan #ChocolateFudge
Posted November 18, 2016