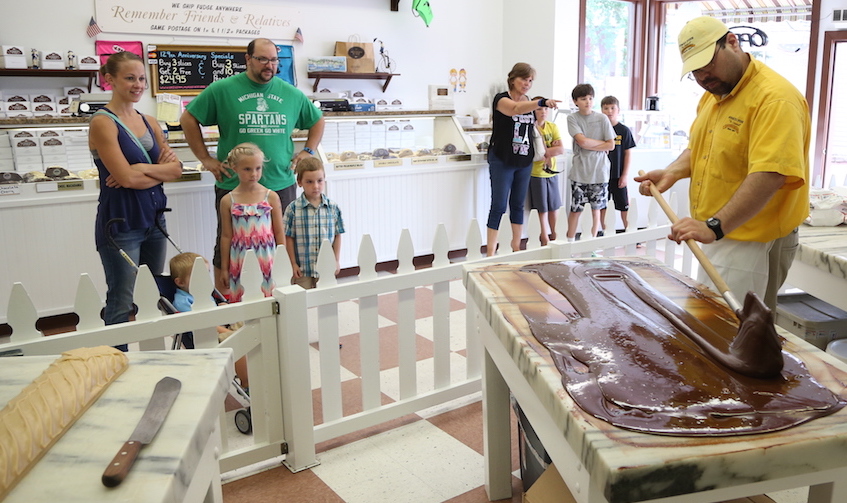 If you've not visited our Mackinaw Crossings store in Mackinaw City or our St. Ignace fudge shop, you may want to do just that this fall color season.
These cities are hubbubs of fun and a great way to cap your Pure Michigan fall travel experiences or your adventures before and after the region's many festivals and events.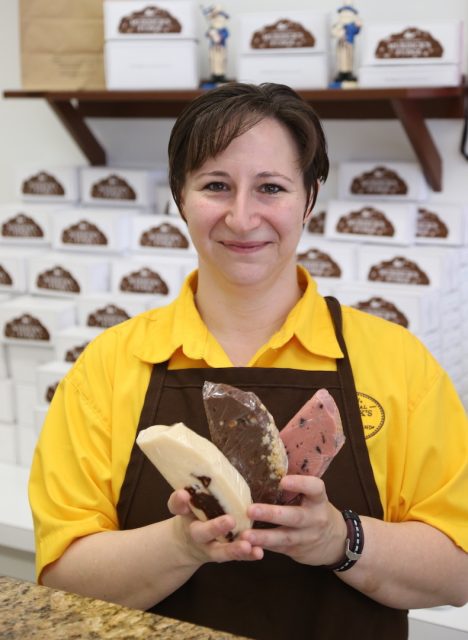 Eleven-year fudge veteran and Crossings store manager Kelly Vincent predicts that, as always, fudge will be selling like mad as folks enjoy the closing of yet another summer vacation season in Pure Michigan.
Located inside the Mackinaw Crossings entertainment and shopping complex in downtown Mackinaw City, the shop is always full of activity.
"Our crowds are filled with amazing people. I love talking with our customers and finding out where they're from," shares Kelly, a nearby Cheboygan resident.
"That's my favorite thing about this job. The customers are so friendly and they really love our fudge, which makes it even more rewarding for me."
The most popular flavor at her fudge shop? "It has to be our Double Chocolate Caramel Sea Salt fudge. It's the favorite and sells like it's going out of style," adds Kelly. "For me, it has to be Double Chocolate … great texture and pure delight."
A bit about Mackinaw Crossings: Built about 25 years ago, the outdoor mall includes a food court, a five-screen theater and more than 30 stores and restaurants.
"I'd recommend exploring the Crossings, and know you'll have a great time here since there's so much to do," Kelley says.
"I'd love to have visitors stop in our fudge shop and tell me know which stores they liked the best or what they purchased. It's great to hear their reactions, since so many visitors to the area still don't know this place is here."
And remember, she says, Mackinaw City is spelled with a "w" at the end and Mackinac Island is spelled with a "c" at the end.  Either way, it is pronounced the same as "aw."
The difference dates back to colonial times. The French pronounced it "aw," but spelled it "ac." The British, on the other hand, heard it pronounced "aw," so they spelled it that way.
St.
Ignace Fudge Shop
Meanwhile, over in St. Ignace, manager Kathy Arnold has been our fudge expert in that location for 31 years!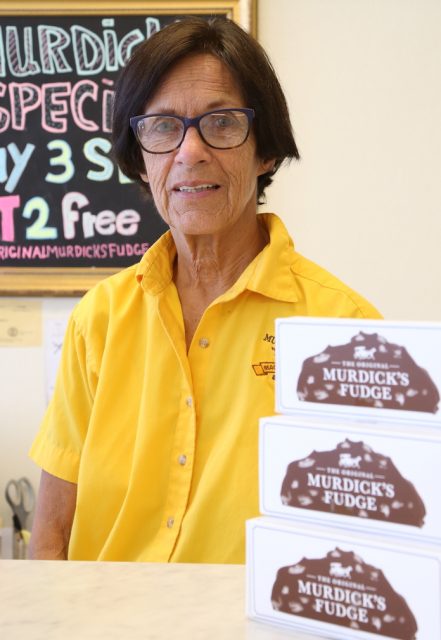 "Regulars come in all the time and say we thought you were retiring years ago," she says with a laugh.
"Others say 'we're so glad you are still here.' Some even remember me when they visited the store as kids and now are visiting with their families."
The shop originally was a hardware store where her father-in-law once worked. It became our Original Murdick's Fudge downtown St. Ignace location in the early 1970s.
"My favorite thing is seeing regular and repeat customers several times a season," says the longtime St. Ignace resident.
"They come in for the annual Labor Day Mackinac Bridge Walk, for example, and look for me. I'd say about 30 percent of my business comes from these favorite repeat customers of mine. It's the fun stuff like this that makes my job so great."
Another fun thing is working with her granddaughter, Hayley York, who's been with Original Murdick's Fudge in St. Ignace for about five years.
"My favorite fudge flavor was Chocolate Walnut when I first started here. But then we introduced Double Chocolate Caramel Sea Salt and boy that's my new favorite," Kathy says. "It's also our customer favorite. It used to be Turtle until we started selling that delicious sea salt flavor. It's a winner. Everyone likes it."
Our St. Ignace store, according to Kathy, "is located in the perfect spot right in the middle of everything downtown and next to the other stores that stay open until 10 p.m. as well. We're right across the street from the Arnold ferry parking lot. But we don't get all our business from the boats. We get lots of city visitor traffic and people just passing through town."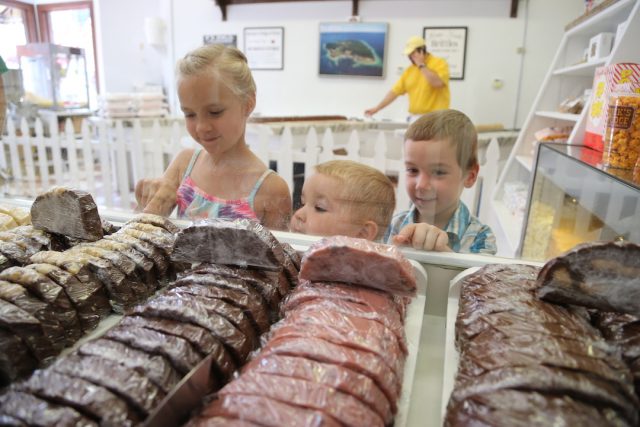 Fall Color Sweet Treats
All of us at Original Murdick's Fudge hope you enjoy a wonderful and safe fall color adventure. We invite you to visit our five locations (three on Mackinac Island and these two mainland fudge stores) while you're vacationing in Pure Michigan's beautiful Straits of Mackinac area.
Our Mackinaw City and St. Ignace stores are open 8 a.m. until 10 p.m. every day so you can sample our sweet treats and take home our tasty fudge for your family and friends. All of our 20 fudge flavors are available at both shops.
Our busiest times of the year are the Fourth of July and Labor Day weekends, at long with the Mackinac Bridge Walk. Now that those peak activity periods are behind us, we're happily stocking our stores with all of our fudge, brittle, toffee and more to satisfy our fall season crowds.
We hope you stop in and say hi to Kelly, Kathy, Hayley and the rest of our Original Murdick's Fudge team in Mackinaw City and St. Ignace. We look forward to seeing you soon.
Happy travels!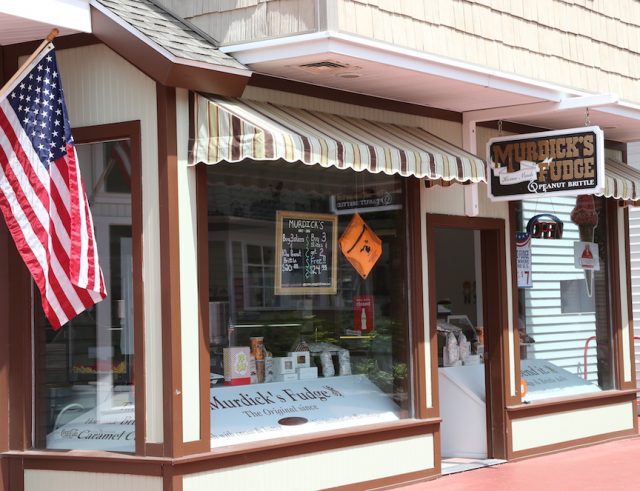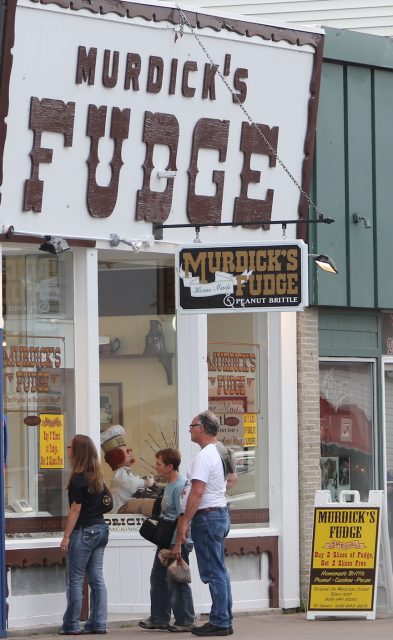 Posted Aug. 31, 2016