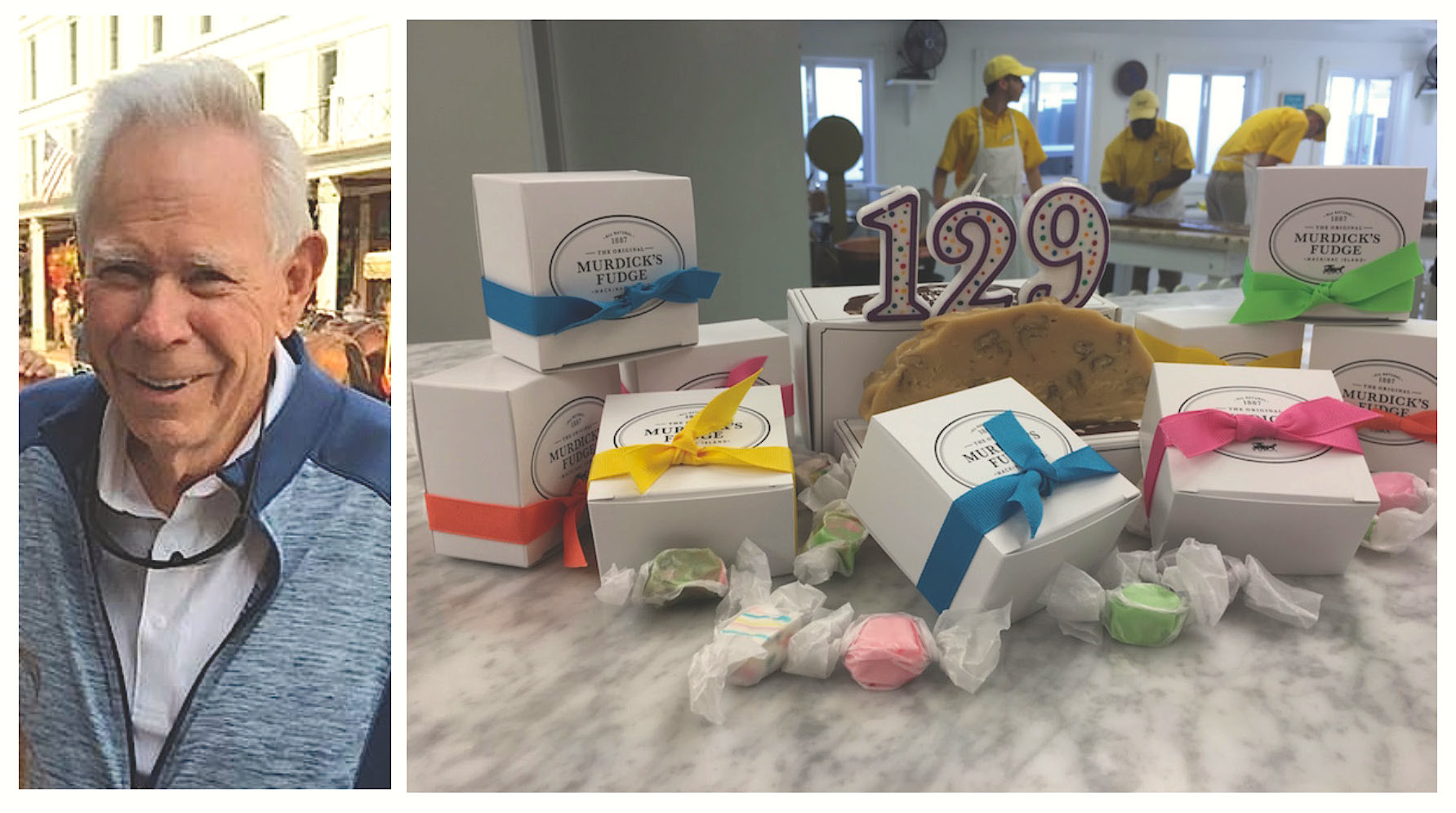 It's that time of year when Bob "Mr. B" Benser and his family, friends and staff put the fudge paddle down and think back to the day when Original Murdick's Fudge rolled out its first batch of sweet goodness 129 years ago.
As close as we can tell, it appears that Sara and Henry Murdick first opened their shop right around July 26, 1887. It was busy times indeed for this entrepreneurial couple who had traveled to the island so that Henry and the couple's son, Jerome, could create awnings from sailcloth for the soon-to-be-opened Grand Hotel.
Sara arrived with fudge recipes in her apron pocket and it wasn't long before she wowed islanders with her treasure trove of sweets.
That's our first big celebration — our 129th birthday!
Now for our next milestone celebration. Mr. B stepped off the Mackinac Island ferry 60 years ago this summer to launch his entrepreneurial adventures. It began with an ice cream stand and later taking over Original Murdick's Fudge from the Murdick family that entrusted him with carrying on Sara's fudge-making traditions.
These two celebrations add up to TWO tasty specials for our friends!
On July 26, we're giving away 129 fudge favors to the first 129 customers who purchase fudge at each of our Main Street Mackinac Island shops.
In addition, through July 31, we're topping off every online order with a complimentary birthday slice of fudge! As for which flavor, it has to be one of Mr. B's two favorites — Michigan Maple Walnut! His other favorite is Chocolate Peanut Butter, but we're saving that for another day.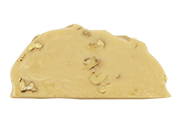 So grab a slice of fudge, sit back and join us on memory lane as we stroll among ice cream stands, cherry farms, sugar-beet fields, timeworn copper kettles and more, recalling how we got into this fun family business and why we continue to handcraft the original classic goodness that really is simply delish!
Original Murdick's Fudge History
It starts in the 1950s with our diligent Mr. B, whose ice cream shop was located on Main Street next door to Jerome and Grace Murdick and their fudge emporium where they made their treats with the same recipes handed down by Sara Murdick.
Mr. B recalls well the days of stopping in, helping out and building a cherished and personal kinship with the Murdicks during many a busy summer day on the island.
Both families lived behind their stores and became personal friends. You could stand in the doorway of the fudge shop and see Grace rocking in her chair in the back until someone came in to buy her sweet treats, recalls Mr. B.
The Murdicks had no children. So Mr. B was like a son to them — and they wanted to entrust him to carry on their historic fudge-making tradition.
Eventually, in 1957, the Murdicks asked Mr. B if he was interested in the business, and the rest is sweet history.
Mr. B's many years of preserving heirloom recipes and old-fashioned goodness aren't just about tending to the copper kettle or "putting to bed" nightly the marble-topped fudge tables.
"My family was entrusted to take care of their recipes. That meant a lot to us," Mr. B says. "We are the stalwarts to carry their traditions and dreams forward."
Mr. B and his family flavor their business philosophy with scoops-ful of both perseverance and loyalty that stems from Sara and Henry Murdick as well as our customers!
In a world of who-can-do-what-the-quickest and let's-jump-in-on-a-short-term-candy-fad, we at Original Murdick's Fudge have chosen to keep it simple, keep it good and keep it real.
In fact, it's not unusual to hear Mr. B tell (and not always softly) his team, "We're not making candy, we're making fudge and only Original Murdick's Fudge is making true, old-fashioned fudge that Sara Murdick's family passed on to us to do. And there is a big difference," he says.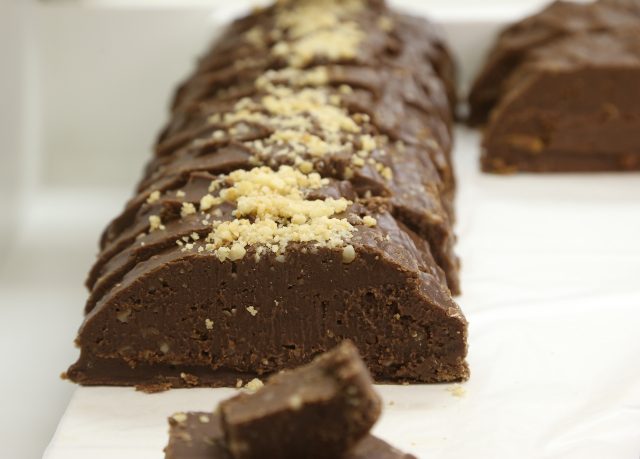 Classic Fudge Recipes
Then there's the purity of Pure Michigan ingredients. Take, for example, the many trips Mr. B himself has made to the cherry orchards of northern Michigan. With buckets and blankets in tow, he'd ferry to the main land, jump in his car and point the wheel west toward cherry country. Literally hand-selecting each delectable cherry that would eventually end up in one of his fudge flavors, Mr. B holds steadfast to his "homegrown-when-possible" kitchen rule.
As for the sugar, it's sourced from Michigan's own Pioneer Sugar and the Michigan Sugar Co. in Michigan's Thumb Area. The sugar is natural and made from sugar beets harvested by the company's grower-owners (that's about 1,200 growers!). Original Murdick's Fudge butter is made right in our Great Lakes State.
Additives, says Mr. B, "are not part of our vocabulary." Take the additive lecithin, for example. Many confectioners include this soy-sourced ingredient for various reasons or to make their fudge creamy in a fast and easy way and avoid the old-fashioned fudge-making process. Lecithin acts as a natural emulsifier and flavor protector.
Mr. B and the Original Murdick's Fudge team would never use it. "We cream our fudge the old-fashioned way by timing, temperature and technique. Every batch is unique and that's why we are a true, old-fashioned fudge maker and not a candy maker. We work our fudge through a long, exact process by hand so it is not lumpy or creamy, which happens as a result of adding artificial ingredients or taking shortcuts, " Mr. B explains.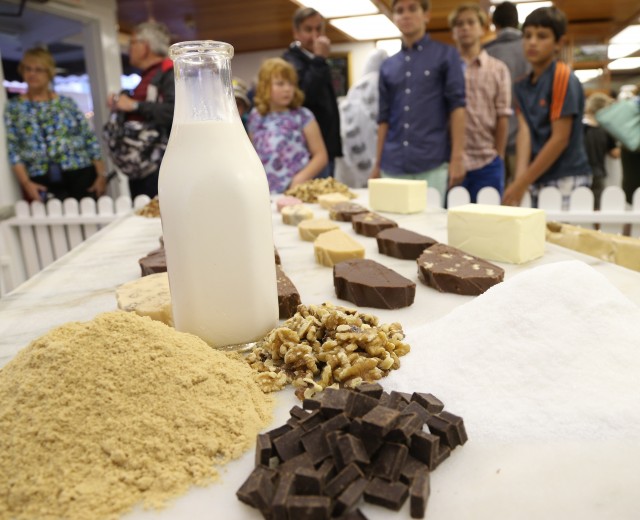 "We don't let the noise drown out what our philosophy is," adds Mr. B's son, Bobby Benser, Jr. who runs the day-to-day operations today. "We're a fudge maker first and foremost and that's what we mostly focus on, which allows us to be mindful of what we do and how we do it, always keeping our customers and their needs in mind."
As for the taste of our fudge, think old-fashioned, the way Grandma or even Great, Great Grandpa made it. Hearkening back to late 19th-century America, many homemakers created fudge for Sunday-night dinners and special occasions.
"That type of fudge — with only a handful of ingredients and no preservatives — is the hallmark of classic fudge," Bobby explains. "Sara made it, and we were entrusted to continue to make fudge the same natural way, carrying on Sara's tradition."
Today, we serve up fresh, gluten-free fudge, artfully handmade each day in our two Mackinac Island white clapboard fudge shops on Main Street, and in our Mackinaw City/Mackinaw Crossings and downtown St. Ignace locations. Using traditional marble tables and big copper pots, our family is thrilled to still be satisfying your sweet tooth.
We're amazed — and so grateful — to be celebrating two big birthdays this week. Thank you, fudge fans!
Order Up! Get your complimentary slice of Michigan Maple Walnut with any Original Murdick's Fudge online order through July 31. Or be one of the first 129 walk-in customers on July 26 at our Main Street Mackinac Island fudge stores to receive a free favor!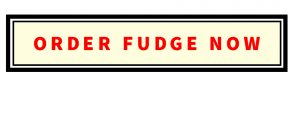 Posted July 25, 2016