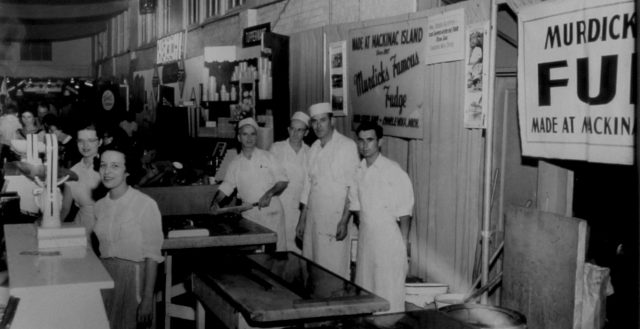 This article appeared in the March/April 2015 issue of Hour Media's dbusiness magazine. Thank you, dbusiness, for showcasing our historic company and its Pure Michigan heritage!
SWEET SALES
Mackinac Island's The Original Murdick's Fudge has survived for 128 years by focusing on what it does best – using quality ingredients, avoiding artificial additives, and employing just the right technique to turn out sweet, melt-in-your-mouth confections.
Of course, there have been tweaks along the way since the day Sara Murdick brought her copper kettles and fudge recipe to the island, where her husband, Henry, and son were commissioned to make awnings for the Grand Hotel around 1887.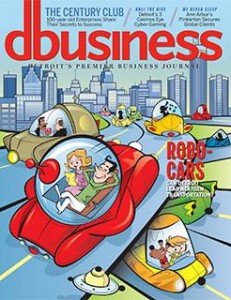 Bob Benser, Jr., who now runs the company and started making fudge at age 14, says one of his latest ideas has spurred sizeable revenue and new sources of income. In 2013, the confectioner began shipping gift boxes of fudge, brittle, toffee and caramel corn for winter holiday gift-giving.
The first two holiday seasons kept a dozen people busier than Santa's elves for three weeks in December, and quickly accounted for more than 5 percent of annual sales.
"I just kind of kick myself for not doing it earlier," Benser says.
The winter online and phone gift-ordering stretches out what ordinarily is a seasonal May-to-October operation for Original Murdick's customers. Benser declines to reveal financials or output for the family-owned business, but says it's not uncommon for the operation to make 1,000 pounds of fudge a day from its locations on Mackinac Island.
The company also engages fudge lovers through its Facebook page and a blog, both outsourced to experienced writers and social media experts. Murdick's customers are encouraged to suggest new flavors via Facebook; the most recent addition is Michigan Honey Butter, a flavor that Murdick's added in June using honey from Hardy Honey Bee Farms in Sterling Heights.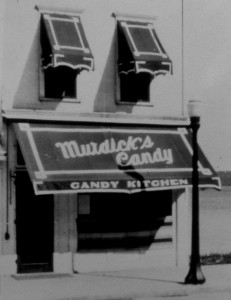 Naturally, Original Murdick's business has grown along with the popularity of Mackinac Island as a tourist and vacation destination, and with the local food movement. Original Murdick's butter and cream come from Upper Peninsula dairies, and its Michigan Pioneer Sugar is from Bay City. The boxes that hold slices of one of 20 different flavors are printed by Tepel Brothers in Troy.
In fact, Original Murdick's sourcing is so local to the state that it's earned the right to print the Pure Michigan logo on its boxes – a designation that requires 75 percent of a processed food's ingredients be sourced in-state.
"I'd say we're 90 to 92 percent in-state," Benser says of his confections' Michigan ingredients.
Just as local is the lineage that has kept Original Murdick's humming through wars, economic downturns, and other obstacles. Jerome Murdick, Sara's son, sold the business to Bob Benser, Sr., in 1969. Benser had opened a Tastee Freeze next door to the fudge shop in 1955, and became like a son to Jerome and his wife.
While the senior Benser, 85, still plays an advisory role in the family business, his namesake son teaches fudge-making and other aspects of the company to several of his nieces and nephews.
The family still owns Mister B's Tastee Freeze, a pizzeria, and a bed and breakfast operation, and partially owns two hotels – all on Mackinac Island. Bob Jr. is the island's tax assessor and president of the tourism bureau.
As the business branches out to include more family members, it is also expanding to additional locations on Mackinac Island, as well as in Mackinaw City and St. Ignace. It even boasts three stores and a bakery on Martha's Vineyard, all established by a family friend.
All locations are part of the family-owned business, and the family intends to keep it that way. "We get asked to wholesale quite a bit," Benser says. "But that way, we'd lose control."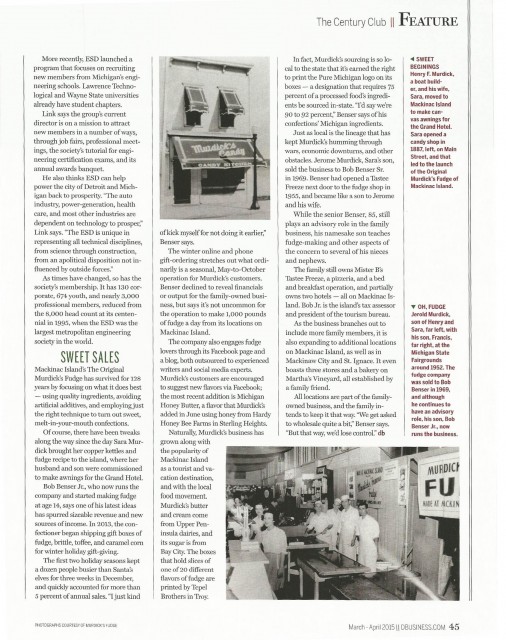 Story by Ilene Wolfe. Reprinted with permission from a dbusiness Magazine feature on 100-year-old companies, including Original Murdick's Fudge (above), that appeared in the March/April 2015 issue.
Posted April 9, 2015