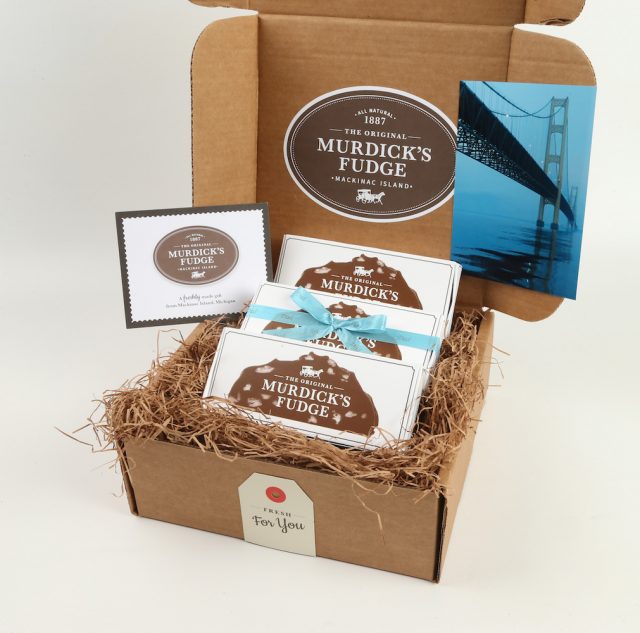 Fathers and fudge. Yes, really, there's a special connection between dear ol' Dad and traditional sweets, say those who this Father's Day will toast their dad with recollections of sweet treats and days gone by.
"My father loved the fudge that was made by a close family friend. It was fabulous and just thinking about it brings back nice memories. It makes me smile." says Mary Liz Curtin, who owns Leon and Lulu, a home-décor shop in Clawson, Mich.
Mary Liz remembers that the second the fudge arrived to their home, it was hidden away. "It was utterly smooth and a perfectly velvety classic chocolate. The woman who would make it for us (Mrs. Bickel) clearly had a close relationship with her double boiler!"
Across metro Detroit in Troy, Mich., Loraine Campbell recalls that her dad loved any fudge with nuts (or anything with nuts, period!). The executive director of the Troy Historic Village knows that fudge plays a huge role in family traditions and, of course, the sweet treat's beginnings date back to an era around the time when buildings at Loraine's Troy Historic Village were built.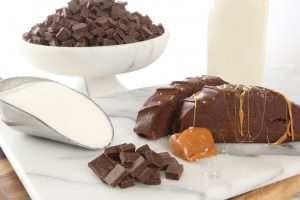 The late 1800s and the first several decades of the 20th century focused a lot on family togetherness in the kitchen, especially when it came to leisure time.
Highlights often included hours spent stirring sweet concoctions over a hot stove and family members offering their two cents as to how to make the candy perfect.
Whenever Ginger Heinen of Troy, Mich., hears the word candy, her mind gets as a sharp as the knife she'd use to cut sweets following an afternoon spent in a small warm Indiana kitchen in the late 1920s and 30s.
There, Ginger and her brothers and sister would help Dad pull taffy or peek into a boiling pot of Aunt Marie's special chocolate fudge or divinity fudge in the making. Those melting, stirring and sampling sessions defined the kids' childhoods, says Ginger and her nieces.
And as they grew and had families of their own, the Heinens continued the tradition.
"My dad (Ginger's brother, Jack) would often pull out Aunt Marie's recipe," recalls Jeanne Heinen of her childhood growing up in Chicago.
Adds her Tennesee cousin, Katy, "My dad (Ed Heinen) always made his fudge with Droste Cocoa. I remember him dropping it in cold water while making fudge, and then scooping it out with his finger, looking for a volunteer to taste-test it."
MACKINAC ISLAND'S FAMOUS FUDGE
Today, these folks are setting their sights on another old-fashioned recipe — one they'll never have but can certainly delight in its resulting deliciousness. Sara Murdick brought her recipes with her back in the 1880s when she and her husband came to Mackinac Island to help make awnings for the newly constructed Grand Hotel.
While Henry Murdick crafted awnings, Sara had some ideas of her own, including whipping up some of the best fudge the islanders had ever tasted. Before long, she opened her first candy kitchen on Mackinac Island and the rest is sweet history.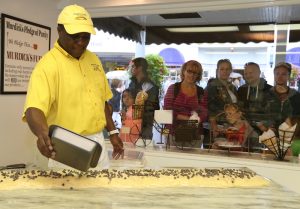 Did Sara ever have a chance to share some of that fudge with her father? We'll never know, but one thing's for sure, Dads on Father's Day deserve something classic, good and old-fashioned  — and that's Original Murdick's Fudge.
We at Original Murdick's Fudge are now offering our exclusive Father's Day Fudge Lovers Gift Box, which features three half-pound slices of Mackinac Island fudge (you create a custom combo from 19 flavors!).
Tied with a blue ribbon, our Dad's Day Fudge Lovers Gift Boxes are as delightful as a June sunrise on the peaceful shores of Mackinac Island's Straits of Mackinac.
And, to sweeten the deal, we're including a 5- by 7-inch photograph by photographer and Arnold Transit ferry employee Bobby Lee. Our Facebook friends voted on their favorite Bobby Lee image for our Dad's Day package. Hands-down, a splendid photograph of the Mackinac Bridge won!
From charming horses to scintillating straits-area sunsets, Bobby's photos reflect his passion for the island. And because he's on the ferries all the time, he gets up close and personal with the island on a daily basis!
Original Murdick's Fudge makers can also create custom orders for Father's Day.
Here's to all dads! Happy Father's Day!
(P.S. Incidentally, traditional Katy's favorite fudge flavor is chocolate pecan. Our phrase for this special flavor is coincidentally "The Tradition Continues." Katy just may want to get her tradition on this Father's Day! It's been said that a bite of our chocolate pecan fudge "starts with the very gentle give of the exterior followed by the smooth interior laced with chopped pecans. The nuts add a hint of earthiness that balances out the chocolate." We've just poured out a dozen batches of this popular flavor. What are you waiting for?)

Posted by Megan Swoyer on May 26, 2016